Bjarke Ingels Unveils Design for NYC's World Trade Tower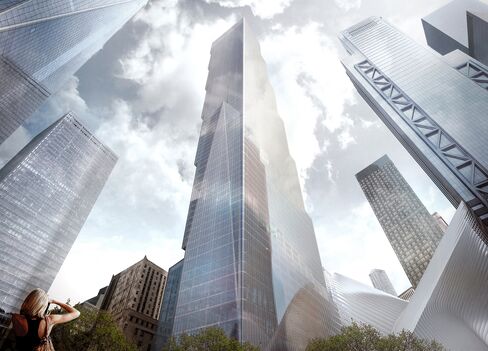 The developer of New York's 2 World Trade Center unveiled a new design by architect Bjarke Ingels that replaces the four-diamond roof with a series of stepped green terraces and creates floorplans more tailored to media tenants.
The 1,340-foot (408-meter) tower, the second-tallest of the four planned for the site, was designed to fit the needs of 21st Century Fox Inc. and News Corp., according a statement from the architect and developer Larry Silverstein. Ingels took over from Norman Foster as the architect of the lower Manhattan skyscraper, which would be the last to be constructed at the trade center.
"We propose a tower that will feel equally at home in Tribeca and the World Trade Center," Ingels said in a statement e-mailed Tuesday by a representative of Silverstein.
"From Tribeca, the home of lofts and roof gardens, it will appear like a vertical village of singular buildings stacked on top of each other to create parks and plazas in the sky," Ingels said. "From the World Trade Center, the individual towers will appear unified, completing the colonnade of towers framing the 9/11 Memorial. Horizontal meets vertical. Diversity becomes unity."
Murdoch Move
Rupert Murdoch's Fox and News Corp., parent company of the Wall Street Journal and New York Post newspapers, last week reached a non-binding agreement with Silverstein to move their headquarters from Midtown to the new tower. If the deal is completed, it will further establish lower Manhattan as a center for major media companies, with Conde Nast next door in 1 World Trade Center, and Time Inc. and HarperCollins Publishers, a News Corp. unit, nearby.
Murdoch's son James, co-chief operating officer of Fox, and John Nallen, Fox's chief financial officer, are spearheading the drive to move to 2 World Trade, said a person with knowledge of the process. Rupert Murdoch, chairman of both companies, has the final word, said the person, who asked not to be identified because the negotiations are private.
Fox e-mailed its employees on Tuesday with renderings and a video of the proposed 80-story tower. The company reiterated that the decision remains tentative and that it will choose between the trade center site and its current headquarters at 1211 Avenue of the Americas "in the coming months."
HarperCollins Sway
A tipping point in the companies' decision to focus on the trade center site came when top executives including Rupert and James Murdoch visited HarperCollins's new offices at 195 Broadway, about a block away, said Mary Ann Tighe, who as chief executive officer of CBRE Group Inc.'s tri-state region is heading Fox and News Corp.'s brokerage team.
"Here's what they came away with: wow," she said. "The employees love it, the authors love it. Everybody is happy to be there. HarperCollins tipped the discussion in that direction."
Ingels designed a set of seven boxes, stacked on top of one another, getting smaller as they rise. Each is tailored to a different function.
The stacking will create 38,000 square feet (3,500 square meters) of heavily planted terraces that will face the building's Tribeca side. The base floors of the side facing away from the memorial will display news headlines.
Open Spaces
The design works better for Fox and News Corp. than Foster's, which Tighe said was "80-plus floors of exactly the same size and layout. Probably an excellent design for a law firm or accounting firm."
The base floors will have "great big open spans" for collaboration and interaction, she said.
The decision for whether Murdoch's companies will stay or go will come down to cost-effectiveness, Tighe said. Two World Trade, which unlike the three earlier towers isn't receiving any public funding or tax-advantaged financing, is subject to tax and energy rent subsidies to attract tenants.
Architect Daniel Libeskind, who devised the master plan for the World Trade Center's 16 acres (6.5 acres) more than a decade ago, endorsed the switch from Foster to Ingels.
"The fact that there are changes in architects is perfectly understandable," he said in a phone interview. "It's a decade later, things change, you have different clients, different customers. That's the nature of the society."
Before it's here, it's on the Bloomberg Terminal.
LEARN MORE