Berlin Startup Expansion Turns Death Strip Into Economic Hub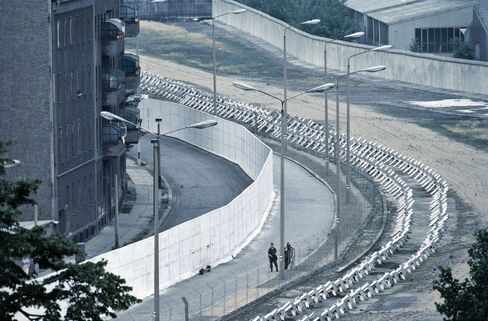 When Oliver Feucht-Zwerger left Berlin in 2011 to work in Switzerland, the area around Ostbahnhof, once a Cold War death strip, was mostly empty lots and parking spaces. The neighborhood is now bustling with new business.
On a recent day in May, Feucht-Zwerger was among a group of hip-looking professionals walking out of a brand-new office building where online retailer Zalando SE employs about 800 people. Nearby, travel-search engine Kayak Software Corp. and video-game developer Yager Development GmbH occupy large loft offices.
"There was nothing here, and now look around," Feucht-Zwerger, who joined Zalando's finance department last year, said while spooning fish bouillabaisse in one of the new lunch restaurants catering to businesspeople. "It used to be hard to get a job in Berlin, but when I came back I quickly had four offers, and all of them were with startups."
Once termed "poor but sexy" for its lack of industry but vibrant nightlife, Berlin is growing quicker than most other German states thanks to an expanding digital industry, a sector where jobs have increased 43 percent in the city since 2008. In a sign for its growing importance, Berlin for the first time is hosting the NOAH conference, one of the industry's premier events, where executives including Google Inc. Chairman Eric Schmidt will meet investors and politicians starting Tuesday.
Biggest IPO
The city's local players have come a long way as well. Zalando, the fashion retailer started by two students in a Berlin apartment in 2008, now employs 8,000 people and plans to hire another 2,000 this year. Rocket Internet SE, which helped grow Zalando and last year executed Germany's biggest IPO since 2007, turned brothers Marc, Oliver and Alexander Samwer into billionaires. It now aims to become the largest Internet platform outside the U.S. and China.
Workspace provider Factory, which rents 16,000 square meters (170,000 square feet) of offices to startups, plans to "strongly expand" its real estate holdings in the city because it believes Berlin will turn into the "predominant European startup hub," according to Chief Marketing Officer Lukas Kampfmann.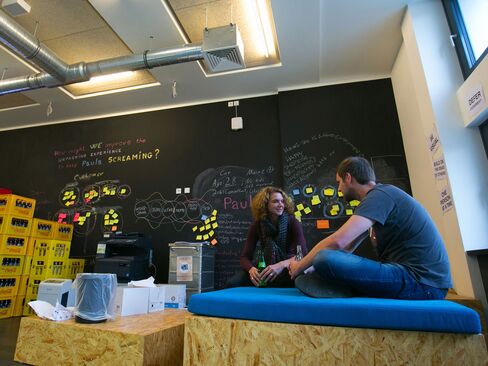 The lure of the startup scene is also attracting large companies including Deutsche Bank AG, Deutsche Telekom AG, Cisco Systems Inc. and EON SE to the city to link up with digital natives on e-commerce, digitalization and 3D printing, Berlin's Economy Minister Cornelia Yzer said in a recent interview. Berlin's companies raised 876 million euros ($983 million) in venture capital funding in the first quarter -- more than in any other European city, according to her ministry.
Techno Clubs
It's the latest shift for a city that went from Prussian backwater to Nazi capital in the 1930s, then languished as a decimated Cold War haunt until the Berlin Wall came down 25 years ago. In the early 2000s, cheap flats and office space attracted students and artists, and many of them stayed on to work or start their own companies.
The area around Ostbahnhof used to be dotted by rundown train stations, techno clubs and East German border watchtowers. Derelict it is no more. Daimler AG's Mercedes-Benz moved into a new tower at the Ostbahnhof in 2013 -- just opposite the East Side Gallery, a painted 1.3-kilometer (0.8-mile) stretch of the Berlin Wall that's the longest still standing.
Kayak occupies a renovated loft in the historic Postbahnhof station with a rooftop terrace and ample space for its more than 100 employees. In just a few years, Berlin became Kayak's biggest office in part because it easily found qualified workers, said Jan Valentin, European managing director.
Tech Gathering
"Like no other city in Germany, this city has an international flair and is fast gaining a reputation as 'the place to live and work' for people from all over the world," Valentin said.
The NOAH conference, which runs through Wednesday, will draw some 1,800 business and political leaders including Rocket Internet CEO Oliver Samwer and German Economy Minister Sigmar Gabriel.
"We want to make Berlin a real digital hub and center for entrepreneurial success," Axel Springer SE Chief Executive Officer Mathias Doepfner said Tuesday at the conference opening.
The city, with an unemployment rate that's still about 1.7 times the national average, remains eager to attract more companies. It offers entrepreneurs a 4,500-euro "test Berlin" package that includes legal and PR consulting as well as furnished office and apartment space for three months. It also seeks to facilitate venture-capital investments to ensure they'll stay even longer, Yzer said.
"Founders are nomads by nature; they go wherever it's most attractive and Berlin has profited from that," Yzer said. "Now we have to see that moving on is as unattractive as possible."
Read this next:
Before it's here, it's on the Bloomberg Terminal.
LEARN MORE