Abe War Statement Expected to Help China Ties, LDP Official Says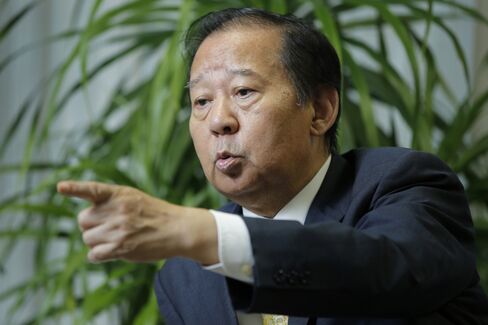 Japanese Prime Minister Shinzo Abe's planned statement on the 70th anniversary of the end of World War II is expected to improve relations with China, according to a ruling party official known for his efforts to revive Asian ties.
"We have been building something and no one expects a statement that will destroy it," Chairman of the Liberal Democratic Party's general council Toshihiro Nikai said in an interview in Tokyo. "If you think of Japan's position in international society, Prime Minister Abe bears great responsibility. We think he will release an admirable statement."
Nikai, 76, led a 3,000-strong delegation of lawmakers, officials and representatives of the tourism industry to China last month, the latest sign of improving relations between Asia's two largest economies. During the visit he met with President Xi Jinping and delivered a personal missive from Abe to the Chinese leader.
Abe is preparing to issue a new statement to mark the August anniversary, and has said he won't reiterate the wording of previous prime ministers that detailed Japan's past aggression and colonial rule in Asia. If Abe's statement fails to satisfy China, it could undermine the nascent recovery in ties and jeopardize further summit meetings between Abe and Xi.
Nikai said he would not offer Abe any advice on the phrasing of the statement.
Previous Statements
"It should not be a statement that rolls back the statements that have been made in the past -- the prime ministers' statements that successive cabinets have upheld," former Chief Cabinet Secretary Yohei Kono, who issued a 1993 apology over the Imperial Army's use of sex slaves, said in Tokyo on Tuesday.
While trade and tourism has rebounded since a territorial dispute turned relations their coolest in decades in 2012-2013, ships and planes from both countries continue to tail one another around East China Sea islands claimed by both China and Japan. Ties have also been strained by Abe's efforts to boost defense and ease the pacifist constraints of the country's constitution.
Signs of a thaw became apparent in November when Xi agreed to meet Abe on the sidelines of an international conference in Beijing. That was followed by a second meeting in Jakarta in April.
Xi made a speech at a friendship event attended by Nikai's delegation in May, in which he said the two countries' relationship "deserves cherishing and protecting."
Avoiding Conflict
Sitting by a large tapestry of the Great Wall in his office, Nikai said he was moved by Xi's friendly stance and determined that Japan should make more effort, such as by inviting Chinese students to visit Japan.
"The top leader of the country said we should get along together, so we will take that seriously," he said. "In fact, after that the finance ministers met, so results are gradually emerging." Japanese Finance Minister Taro Aso met his counterpart Lou Jiwei on June 6.
Japan should involve the U.S. in its efforts to smooth over disagreements with China and make sure the tensions don't lead to conflict, Nikai said.
"We need to work together," he said. "The U.S. also wants to avoid war above all. So politics must include efforts to avoid anything stupid like fighting or war."
Nikai also said that there is no need for a hasty decision for Japan to join the China-led Asian Infrastructure Investment Bank. Both the U.S. and Japan have so far kept their distance from the fledgling organization.
"There's no need to rush and make a fuss as if we've missed the bus at this point," he said. "If Japan is to join, we will have ideas and conditions," he added. "It's fine to be cautious."
Before it's here, it's on the Bloomberg Terminal.
LEARN MORE