Abe Agenda Faces Mounting Barriers as Defense Bills Seen Delayed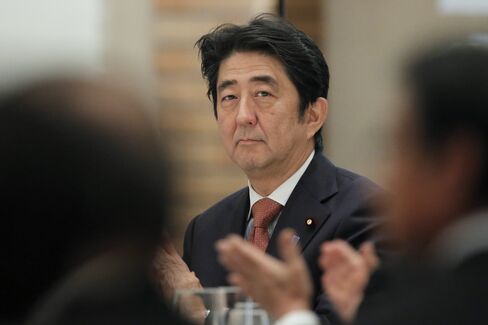 The Japanese government will delay the passage of bills that would let the military defend the country's allies, the Mainichi newspaper reported.
Prime Minister Shinzo Abe's administration will drop a plan to pass the bills by June 24, when the parliamentary session ends, and extend the sitting to try to pass them from early August onward, the newspaper said, without citing anyone. Three scholars in parliament last week called the legislation "unconstitutional" and there is criticism from opposition parties of the changes, it said.
The postponement would also reflect public concern about a beefed-up security role for Japan. Nearly 60 percent of respondents to a Yomiuri newspaper poll this month said they oppose the passage of the bills during this parliamentary session -- an 11 percentage point rise from a May survey.
Abe has touted the bills as a cornerstone of his efforts to craft a bigger presence for Japan in the region, and as he faces a more militarily assertive China.
The delay would follow revelations that more than a million personal records were leaked in a cyber-attack on Japan's pension service. That intrusion has stalled debate on bills to reform the labor market -- a key component of Abe's growth strategy -- and the introduction of a system to unify taxpayer and pension records.
"Abe's legislative agenda faces unexpected challenges," Tobias Harris, a senior associate at Teneo Intelligence, said in an e-mailed note. "For the moment, however, there is no threat to Abe's premiership or to his chances of being re-elected as president of the Liberal Democratic Party in September."
Abe's Vow
Abe had vowed to pass the legislation this summer to support his reinterpretation of the pacifist constitution and April's expansion of defense guidelines between Japan and its major ally the U.S. Since taking office Abe has loosened a ban on arms exports and reversed a slide in defense spending.
The bills would let Japanese forces use weapons to rescue citizens abroad and support other nations' forces in situations that have a serious effect on Japan's security or that threaten international peace and security and are being addressed collectively by the international community.
Before it's here, it's on the Bloomberg Terminal.
LEARN MORE