World's Most Congested Subway Prepares to Host Olympics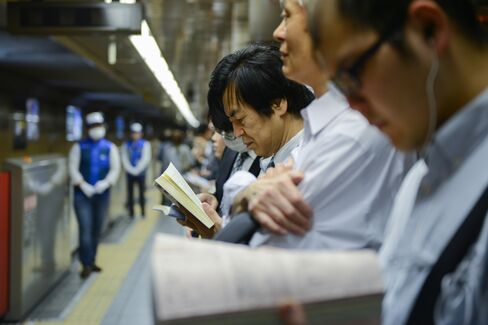 It's Monday morning and Tokyo is going back to work after the Golden Week holidays. By 8:16 at Shinjuku station, the world's busiest, lines of waiting commuters overlap with those from the opposite platform. The smell of pastries from a bakery wafts over the stream of people joining them.
As a train approaches platform 2 on the Marunouchi line, the number 50 appears on a digital sign, indicating the train will stay 50 seconds longer than usual. That's because the following train, due in two minutes, has been delayed and is already packed. Each 12 seconds of delay adds about 80 people and makes a train 10 percent more crowded, according to Tokyo Metro Co.
The clock begins to count down and Assistant Stationmaster Takashi Arai steps onto a wooden dais.
"30...20...10..." Dozens of people are still pouring into the train. "5...4...3..." A few desperate commuters run at the already packed entrances.
"Please don't force your entry," Arai, 58, says into a microphone, his voice polite, calm and assertive.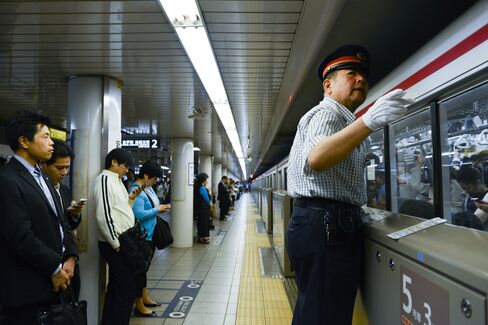 The doors close and Arai makes sure no arms, legs, bags, shirts and pants are sticking out. He raises an index finger and the train pulls off.
A minute later, the next one arrives. It's crammed.
Every day, Tokyo's subway and trains carry out one of the world's largest logistical operations, getting a metropolis of 38 million people to work, many commuting for hours. The closer they get to the center, the more congested the carriages become. On the notorious Tozai line, white-gloved staff push people into the carriages at peak hours.
Olympic Games
While Tokyo's rail system may appear to be straining at the seams, it's preparing for an even bigger challenge, as the city transforms to welcome its first Olympic Games since 1964.
The Japanese capital is spending 51.4 billion yen ($410 million) this fiscal year alone on the 2020 games. Tokyo Metro, the bigger of the city's two primary subway operators, is adding a new station along a corridor connecting the main venues and athletes' village and has announced a 400 billion yen revamp of existing lines.
Japanese Prime Minister Shinzo Abe said he wants to boost the number of visitors to Japan to 20 million by the Olympics, from 13.4 million last year. How smoothly Tokyo Metro will handle the influx depends on a small group of employees in a squat, beige building on a narrow residential lane far from crowded Shinjuku.
Control Center
Inside, past a lone receptionist, there's a door upstairs with a sign on the wall that says: "Integrated Control Center."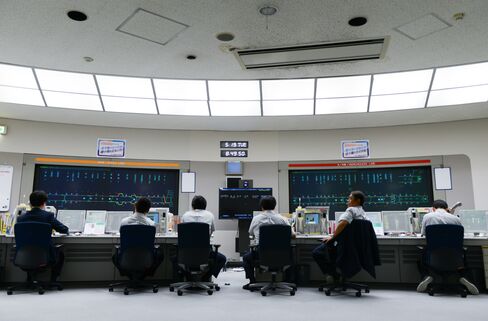 This is the heart of Tokyo Metro, a location kept secret for security, where large electronic displays on the wall show the status of the trains as they zip between 179 stations.
At 8:23 a.m. on a weekday, the rush hour is in full spate and Yoshimasa Koike, 53, has just begun a 24-hour shift as one of the supervisors (they take turns to rest in on-site bedrooms). From here, he and co-supervisor Akira Ishizuka will oversee an average 6.8 million travelers a day.
A light drizzle is slowing traffic, queues are growing fast and at Toyocho station on the Tozai line a passenger has taken ill. As platform staff assist, Koike's officials order the two preceding trains to make longer stops.
"It'll run a bit late," says one controller.
"About 3 minutes, I guess," another replies.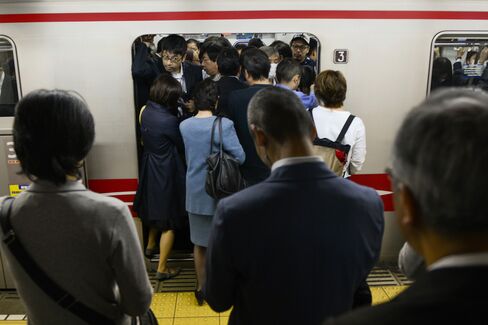 It's going to be another tough day for travelers on Tozai.
Koike stands behind them with his arms crossed.
'Hone Senses'
"I don't say much during the morning rush unless there's an emergency," he says. "I trust them. I'm trying to hone my senses to notice what's going on before they tell me."
Ishizuka, 54, is in charge of five subway lines this morning. Like the rest of the system, he's not relying on technology alone. Most of the situations on the subway are dealt with by talking directly to controllers, drivers and platform staff.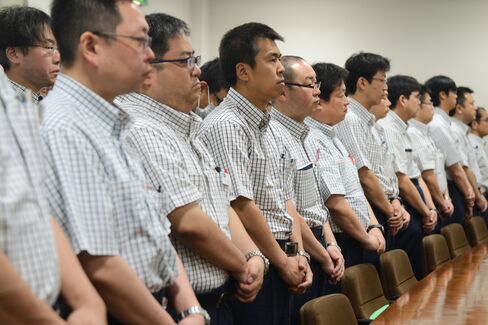 "I always carry a pencil and note pad because I won't forget what I write down," Ishizuka said. "Sharing information is the most important thing."
At 9:23 a.m., Koike stamps his seal on two sheets of paper detailing the morning's events and delays and faxes them to throughout the company. In addition to the sick passenger, a woman was sexually assaulted. The Chiyoda line had the longest delay: 11 minutes 36 seconds.
Things aren't always so smooth. If there's a major accident or breakdown, engineers, technicians and operators go into action, figuring out how to navigate passengers via other routes and fix the fault. With some trains running at close to 200 percent of optimum traffic even on a normal day, the famous Japanese politeness can begin to fray.
"There's a certain amount of tension," says Arai, with typical understatement, after his platform shift at Shinjuku station, which has a total of more than 200 exits. He says it's human interaction that keeps the operation going. "I count on my own eyes for safety and efficiency. Even if others signal the OK, I always make sure for myself."
Before it's here, it's on the Bloomberg Terminal.
LEARN MORE