U.K. Business Lobby Cuts Growth Outlook on Overseas Headwinds
The British economy's G7-beating recovery is losing a bit of its luster, according to new forecasts released today by the Confederation of British Industry.
The business group now sees growth averaging 2.4 percent this year and 2.5 percent in 2016, down from 2.7 percent and 2.6 percent, respectively, in its February outlook. This comes on the back of a soft 0.3 percent quarter-on-quarter growth reading for the three months through March, which CBI Director-General John Cridland says belies a generally upbeat feeling among his membership. Quarterly growth is expected to average 0.6 percent for the rest of the year.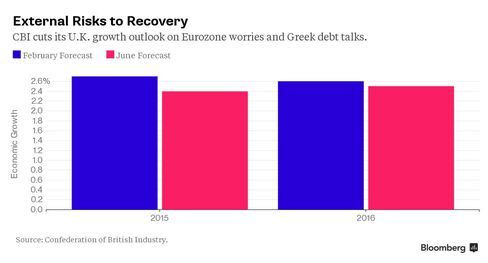 The missing ingredient in an otherwise robust domestic economy is the elusive pickup in productivity growth required for a durable boost in household spending, currently supported by low oil prices, according to the CBI. It predicts inflation will stay below the 1 percent mark this year before accelerating to an average of 1.6 percent in 2016 as the impact of lower fuel and food prices unwinds.
Exports are expected to pick up next year, helping to rebalance the economy toward external trade and confront significant overseas headwinds to a continued recovery. "Risks remain in the form of economic instability in Greece and a sluggish Eurozone," Cridland said, "and clearly the EU referendum is a hot topic in Britain's boardrooms. Businesses now have certainty that the referendum is happening, but not the outcome."
Before it's here, it's on the Bloomberg Terminal.
LEARN MORE