Traders Unfazed by Drop in Mexico Inflation See Prices Jumping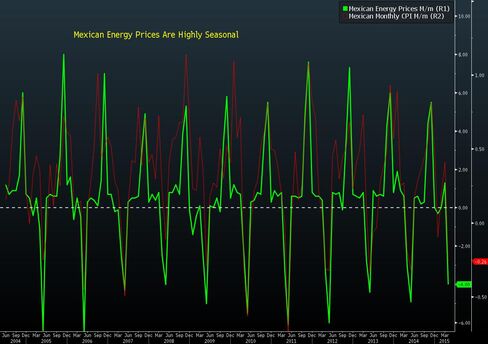 Mexico's inflation rate tumbled to a nine-year low last month, but that's not stopping bond traders from betting on a jump in prices.
Investors have actually boosted their cost-of-living projections by the most in four years since the statistics institute said May 22 that inflation slowed to 2.93 percent in the first half of the month. Traders now expect the annual pace will quicken to an average 3.19 percent over the next year, based on a bond-market gauge known as the break-even rate. What gives?
For starters, bond buyers see a swoon that's pushed the Mexican peso to a record low, which will boost the cost of imports in the second half of the year. That's also when food prices in Latin America's second-biggest economy have climbed faster, rising 0.5 percent on average since 2001, according to Neil Shearing, chief emerging-market economist at Capital Economics Ltd.
"Food prices tend to increase in August, September and December," he said by telephone from London. "There is probably also a lagged effect of the weaker peso, which has yet to come true and will be important."
Yields on Mexico's one-year inflation-linked government bonds fell 0.57 percentage point in eight trading days after the statistics institute published its bi-weekly consumer-price index. That's caused the yield gap with similar-maturity fixed-rated notes to swell, pushing up the break-even from a low of 2.35 percent in April.
'Almost Zero'
Consumer prices have risen just 0.25 percent this year. The central bank's goal is for annual price increases of 3 percent.
"There has been a strong speculative movement," Araceli Espinosa, head of fixed-income research at Actinver, said by telephone from Mexico City. "Inflation so far this year has been almost zero and that means that inflation will be concentrated in the second half of the year. It's mathematics."
The peso sank to as weak as 15.77 per dollar Friday, the weakest since Mexico re-denominated the currency in 1993. It gained 0.6 percent Monday to 15.6212 per dollar as of 1:54 p.m. in New York. The impact on prices from the 17 percent plunge in the past year may materialize between July and December, according to Rafael de la Fuente, the chief Latin American economist at UBS AG.
"There's the issue of pass-through, which up to now has been very low," he said by telephone from Stamford, Connecticut. "There are companies saying that they expect to be pushing through higher prices in the second half of the year."
Energy Prices
Bond traders are also wagering on an increase in energy prices will cause inflation to accelerate, said Salvador Orozco, deputy director of fixed-income at Grupo Financiero Santander Mexico.
In the past decade, the cost of energy has climbed an average of 4.9 percent in September and October, when summer power subsidies end.
"The market is thinking that the lowest levels of inflation have passed and that inflation after July has to rise," Orozco said by telephone from Mexico City. "Locals are betting on that seasonal impact. It happens every year."
Before it's here, it's on the Bloomberg Terminal.
LEARN MORE