Manchester United Becomes First $1 Billion Soccer Club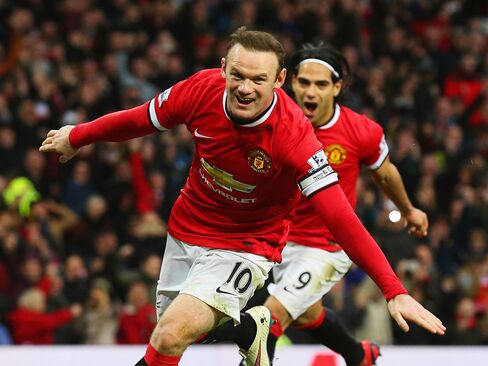 Manchester United has risen to become the world's most valuable soccer brand despite failing to finish in the top three spots of England's Premier League in the last two seasons.
United passed Germany's Bayern Munich to become the sport's first brand valued at more than $1 billion, according to Brand Finance, a U.K.-based company that helps clubs manage their image and intellectual property.
English teams -- which account for six of the top 10 in the rankings -- are benefiting from a new three-year television contract worth 5.1 billion pounds ($7.8 billion), a 70 percent increase from the last one. United was able to marry that boost with two new sponsorship deals, with Chevrolet and Adidas, pushing its brand value to $1.2 billion, Brand Finance said.
Manchester United's management and owners "capitalised on the brand's growing power to establish a worldwide fan-base and a range of sponsorship deals unrivalled in their number and value," Brand Finance Chief Executive Officer David Haigh said in an e-mailed statement.
Brand Finance said it ranked the teams' brands by using their popularity, commercial performance and match-day and broadcasting income.
United, which the American Glazer family bought for 790 million pounds in 2005, finished fourth in the just-finished Premier League season after dipping to seventh in the 2013-14 season.
Barcelona, which won the European Cup and the Spanish league and cup this season, boosted its value by $28 million to $773 million. That puts it sixth in the rankings.
The top four, after United, are Bayern Munich, worth $933 million; Real Madrid at $873 million; Manchester City at $800 million; and Chelsea, worth $795 million, Brand Finance said.
Top 10
2015        2014         Team                      Value
Ranking    Ranking
1           3            Manchester United        $1.21 Bln
2           1            Bayern Munich            $933 Mln
3           2            Real Madrid              $873 Mln
4           5            Manchester City          $800 Mln
5           7            Chelsea                  $795 Mln
6           4            Barcelona                $773 Mln
7           6            Arsenal                  $703 Mln
8           8            Liverpool                $577 Mln
9          10            Paris Saint-Germain      $541 Mln
10         12            Tottenham                $360 Mln
Before it's here, it's on the Bloomberg Terminal.
LEARN MORE