Here's What Wall Street Is Saying About Deutsche Bank's Management Shakeup
There's a wide range of opinion
Deutsche Bank's co-chief executive officers, Anshu Jain and Juergen Fitschen, surprised many investors by announcing their resignations over the weekend. The two executives had struggled to win investor support for their strategies after Deutsche Bank fell short of previous targets. John Cryan, a member of the supervisory board, will lead the bank, alongside Fitschen, for the next year after Jain leaves on June 30, and he will become the sole CEO when Fitschen departs after the annual general meeting next May.
Deutsche Bank shares have struggled to regain their value since the financial crisis of 2008, still trading around 70 percent lower than their peak in 2007.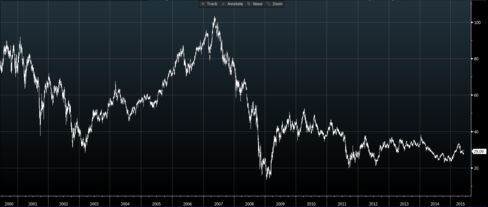 Investors seemed to welcome the management overhaul on Monday, sending Deutsche Bank shares soaring by as much as 8.31 percent.
Are analysts across Wall Street as optimistic that Deutsche's new management will force through change? Here's a quick roundup of what they're saying.
Morgan Stanley stood mostly in the skeptical category, laying out five key points for investors, including the potential for more litigation and that the firm's cost-execution will be a key priority.
DB has missed prior targets and failed to improve efficiency in German retail with 80% C/I ratios. What's more, the new cost target was a step backwards - as 65% target retained even after shedding Postbank with 81% C/I. We think sharper execution will be critical to achieve value potential. New CEO John Cryan we recall had a tight handle on costs whilst at UBS.
Goldman Sachs said that while the announcement may be viewed as a positive in the near-term, the boost is likely to be short-lived.
Deutsche Bank's central challenges are structural, rather than management related – the basic difficulty is the absence of a high ROE platform. DBK does not have a highly profitable private bank (as is the case with UBS/CS), and its retail/commercial bank is low ROE. At DBK, investment banking (and FICC) is the highest ROE business. Management change does not alter DBK's strategic options. We don't see radical changes as a consequence of the announcements..
Bank of America was optimistic, upgrading the stock to neutral. The bank said the appointment of a "well respected new CEO" might bring a more ambitious plan to the firm that the market will view more positively.
A change in CEO will not eradicate all problems harming DBK shares: litigation, regulatory change and low rates are all continued challenges to the business. Nevertheless, expectations are low and relative to the sector, DBK shares trade close to historic lows.
Credit Suisse was in the optimistic camp, but didn't change its rating on the stock, as it said it is waiting for more clarity.
The most unconvinced were Berenberg and CreditSights. Berenberg doesn't see how this makes an impact on the company in the longer term.
We struggle to see how the change in CEO at Deutsche Bank makes it a long-term winner at the moment. ... [T]he longer-term issue about the core profitability of the business needs more than a new CEO to resolve. We also find it hard to see how the lengthy handover helps bring more radical change or remove the uncertainty about Strategy 2020. ... After much discussion, DBK had announced its 2020 strategy at the end of April 2015. It was short on detail and management is due to provide it in the following 90 days. ... We see the change in CEO raising further uncertainty about the strategy, particularly the lengthy handover period, as we expect Strategy 2020 to deliver no more than a mid-single ROTE and a lack of capital return.
CreditSights said that investors betting that the move may herald a major change in Deutsche's strategy may want to rethink that stance.
... Speculation that Cryan might revise the Strategy 2020 programme announced in April seems wide of the mark - since 2013 he has been a member of Deutsche Bank's Supervisory Board, which ratified the new strategy. It seems more likely that the task of implementing a new strategy in a changing regulatory and market environment was seen to be preferable under a new management team, in much the same way that Brady Dougan is being replaced as Credit Suisse CEO by Tidjane Thiam
Before it's here, it's on the Bloomberg Terminal.
LEARN MORE