Gone Are the Days When Higher European Bond Yields Spelled Disaster
They're being lauded as a sign of a healing economy
It's been a long time since rising bond yields were greeted by the ECB with enthusiasm. So welcome to the new normal.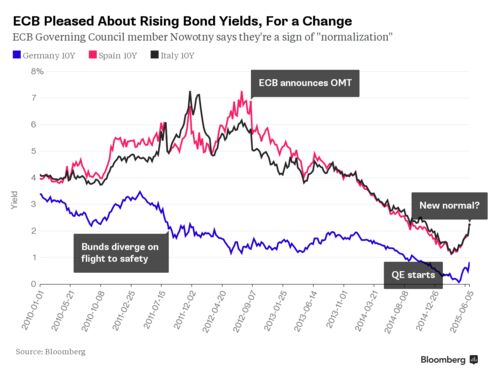 The German 10-year bund yield has risen to just below 1 percent, from less than 0.1 percent in mid-April. While rising yields in the euro area signal many things, from the expectation of higher inflation to more investor willingness to take risks, the movement's being cheered as evidence that quantitative easing is working.
"We're seeing an upward development. I see that as a success story, because I interpret it as a normalization,'' Ewald Nowotny, Austrian central bank governor and ECB Governing Council member, said in Vienna on Monday. The low points reached in the early part of this year "certainly weren't justified by the real economy.''
It's a change from the last half-decade or so. As the region's crisis rumbled on, any sign that investors were selling euro-area debt might have meant another flare-up was just around the corner.
Now ECB President Mario Draghi says the effects of the $1.2 trillion QE program are filtering through to the real economy, even though it is just three months old. Data released today show that German exports increased for the third month in a row, aided by the ECB-prompted decline in the value of the euro. Euro-area inflation's back above zero. Even unemployment is falling.
Vincent Juvyns, global market strategist at J.P. Morgan Asset Management in London, says the economy's entering a "virtuous cycle.''
"Many European countries have taken steps in recent months to fundamentally reform their economies and make them more flexible,'' he said in an e-mailed note. "Although economic momentum remains admittedly fragile, it still stands out relative to the U.S. and the 10 largest global economies.''
So while Draghi and his colleagues might be wary of yields rising too far, too fast, for now markets are doing exactly what they want: proving them right.
Before it's here, it's on the Bloomberg Terminal.
LEARN MORE