Gandhi-Style Protests Used to Combat Indian Bad Loans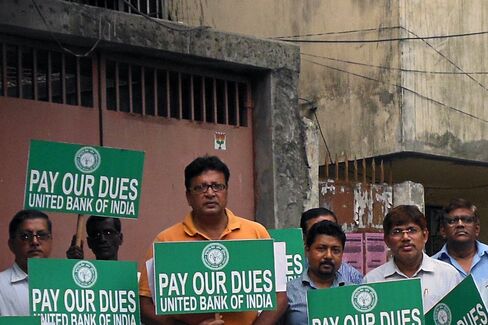 They gathered in the scorching heat one recent Friday afternoon in Kolkata in eastern India, a dozen bankers attempting an unorthodox way of extracting money from a delinquent borrower: public shaming.
Efforts to get Sandip Bajaj's now-defunct lentil trading company to repay a 40 million rupee ($624,000) loan had been fruitless for years, so the United Bank of India employees had converged on his apartment to carry out a dharna, or peaceful protest. Led by bespectacled, sari-clad Krishna Ganguly, they stood on the street outside the concrete low-rise where Bajaj lives holding placards saying "Pay Our Dues."
"These defaulters need to live in the society and to avoid shame, some of them are coming forward to negotiate with the bank," said Ganguly, an assistant general manager at United Bank's Dalhousie Square branch in Kolkata. "So far we have had six dharnas in this part of the city."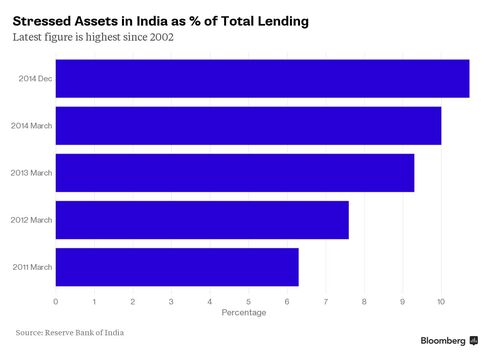 United Bank and Hyderabad-based Andhra Bank have been intensifying the use of dharnas this year as soured credit in India surged to a 13-year high. Larger lenders like ICICI Bank Ltd. are also taking additional steps to reclaim loans as they await a bankruptcy law from Prime Minister Narendra Modi's government that could accelerate debt recoveries.
Bajaj said in an interview he was charged "high" interest rates, and that United Bank had been unwilling to negotiate terms. Ganguly said repeated calls and letters to Bajaj and a business partner had been ignored. Besides the public spectacle outside Bajaj's apartment, the matter is also playing out in court. Efforts to contact his business partner were unsuccessful.
Special Methods
"What the bank is trying to do is trying to terrorize and scare us by these dharnas, creating more mental agony for us," Bajaj said by phone. "We want the court to intervene and settle the issue. Things can go wrong with anybody, but that doesn't mean we are thieves."
United Bank has the highest bad-loan ratio among its Indian peers, which may help explain why it is resorting to outside-the-box methods like dharnas. But other lenders are feeling the pinch too: ICICI Bank is restarting a special unit focused on reclaiming soured debt. State Bank of India, the country's largest by assets, has a similar division that it's allocating more resources to.
Getting Ashamed
United Bank had a bad-loan ratio of 9.49 percent as of March 31, down almost a percentage point from a year earlier. Managing Director P Srinivas says the approximately 500 dharnas employees carried out this year in the bank's home state of West Bengal and neighboring Bihar have helped. There isn't any public data tracking dharnas.
"People are getting ashamed, while others are getting worried, and are paying up," Srinivas said. He wasn't able to provide specific figures on how much the practice has accelerated recoveries.
The S&P BSE India Bankex Index, a gauge of 12 lenders, has advanced 13 percent in the past year, compared with a 3.5 percent gain in the benchmark Sensex. Shares of United Bank of India fell 1.1 percent on Monday to 22.35 rupees in Mumbai, while Andhra Bank rose 1 percent to 69.15 rupees.
Freedom Fighter
The protests helped Andhra Bank recover more than 5 billion rupees in the March quarter, Chief Financial Officer S. V. Venkatasubramanian said in an interview. The bank had a bad-loan ratio of 5.31 percent as of March 31, little changed from a year earlier.
A dharna is a non-violent protest popularized by Mahatma Gandhi as he fought for India's independence from Britain in the 1940s. It's a practice still used by contemporary politicians: the opposition Congress party's Vice President Rahul Gandhi, who isn't related to the freedom fighter, led a dharna in December to protest against Modi's policies.
Back in Kolkata, Ganguly said Bajaj and a fellow director at Vaishno Commotrade still haven't produced any payments. They stopped repaying United Bank in 2012 for money borrowed in 2010 to buy the apartment now inhabited by Bajaj and his wife, according to Ganguly.
Besides the calls and letters, the directors had also ignored invitations to "recovery camps," where bank officials discuss ways to repay loans with defaulters, she said. Although the bank has moved to seize the apartment, which was put up as collateral for the loan, the directors have secured a stay from court, Ganguly said.
'Huge Losses'
Bajaj said Vaishno was unable to make repayments because of "huge losses" that it suffered and United Bank's interest rates, which he puts at about 14 percent to 15 percent. The bank is demanding full repayment and unwilling to negotiate terms, he said. Ganguly declined to comment on the terms of the loan. United Bank's base rate, which it offers to its highest-rated customers, is at 10 percent, its website shows.
Bloomberg News wasn't able to locate the court records documenting the dispute, while Ganguly and Bajaj declined to share more details on the proceedings.
Bankers are awaiting a national code that will incorporate laws for resolving bankruptcies including recovering debts from companies that go bust. The finance ministry set up a panel in August 2014 to study the legal framework and to submit a report to the government. Developing such a code will require more time because of the web of laws and adjudicatory forums governing insolvencies in India, the panel said in an interim report in February.
Government Panel
In the meantime, creditors rely on the nation's Debts Recovery Tribunals that were created under a 1993 law to help financial institutions reclaim loans. The tribunals have been swamped with so many cases that it may take at least another four years to clear them, central bank Governor Raghuram Rajan estimated in November.
Borrowers can appeal the tribunals' judgments, further delaying the recovery process. Banks had reclaimed just 13 percent of the amount at stake in the 2013-2014 period when cases were brought before a tribunal, according to Rajan. The courts should entertain fewer appeals, he said in a November speech, while recommending new bankruptcy courts and turn-around agents.
Under new rules published Monday, RBI allowed lenders to convert loans into equity, take controlling stake in a defaulting company and bring in managers of their choice.
"While the government and regulator has an intent to bring about change to bring clarity and fairness in rules, it may take some time before it can be achieved," said Hatim Broachwala, a banking analyst at Nirmal Bang Institutional Equities Ltd. in Mumbai. "Until then, banks will have to explore all options to reclaim the money they lent."
Before it's here, it's on the Bloomberg Terminal.
LEARN MORE