Bank of Russia Says Inflation in Check With Economy in Focus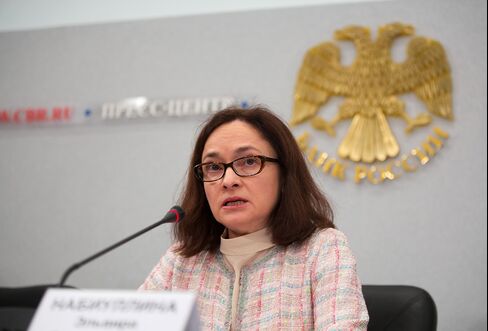 The Bank of Russia said it has the upper hand in its struggle against inflation as Governor Elvira Nabiullina turns to aiding an economy mired in its first recession in six years.
"We managed to get inflation under control," Governor Elvira Nabiullina told lawmakers in Moscow on Monday. "In our assessment, we've passed the peak of inflation and forecast its marked decrease in the future. Nevertheless, risks for inflation remain."
By drawing a line under Russia's biggest spike in price growth since 2002, policy makers can turn to combating the recession gripping the world's biggest energy exporter. Sanctions over Ukraine and runaway inflation have put a squeeze on the economy, which had its first decline since 2009 in the first quarter.
With the central bank set to review interest rates next Monday, Nabiullina said last week that inflation and currency risks will hinder a faster rollback of last year's emergency rate increase to 17 percent following three decreases in 2015. All economists in a Bloomberg survey predict a reduction from 12.5 percent on June 15, with forecasts ranging from a half-point cut to a decrease of 2.5 percentage points.
Derivatives traders also see borrowing costs falling, with forward-rate agreements signaling 62 basis points of cuts in the next three months.
'Sure Thing'
By declaring that inflation is in check, "Nabiullina is fortifying market expectations on further cuts," with a decrease next week a "sure thing," said Vladimir Miklashevsky, a strategist at Danske Bank A/S in Helsinki. "The ruble's devaluation has been already priced in and shrinking economic activity is limiting price growth."
After losing almost half its value in 2014, the ruble is the world's best-performing currency against the dollar this year with an 8.3 percent gain. It traded 0.3 percent stronger at 56.0620 to the dollar as of 4:33 p.m. in Moscow.
Speaking in St. Petersburg last week, Nabiullina said the central bank will evaluate a "whole range of factors" when reviewing rates at its next meeting, adding that she couldn't say "how big the cut" will be.
Inflation slowed to 15.8 percent from a year earlier in May, compared with 16.4 percent in April and 16.9 percent in March. Weekly price growth has stabilized at 0.1 percent.
Economic Revival?
"If there are no new additional shocks, then by the end of the year we forecast the beginning of economic growth on a quarterly basis," Nabiullina said on Monday.
Some risks for Russia's inflation outlook remain, Nabiullina said, pointing to a possible tightening of U.S. monetary policy and an accelerated adjustment of state-regulated tariffs for natural monopolies such as utilities.
Nabiullina also said that purchases of foreign currency for reserves will continue for a long time. The operations, which policy makers have said are compatible with a free-floating exchange rate, helped send the ruble to a two-month low last week. The Bank of Russia on June 4 bought $131 million, the least since the program started on May 13.
The ruble's three-month implied volatility, a measure of exchange-rate swings, was 23.5 percent, the highest globally, according to data compiled by Bloomberg.
The currency's volatility will start to subside, according to Nabiullina. The central bank's currency purchases are having a very small impact on the ruble's exchange rate, which is dominated by oil and geopolitics, she said.
Before it's here, it's on the Bloomberg Terminal.
LEARN MORE