Baird: Tesla Shares Are About to Move Even Higher
It's not too late to hitch a ride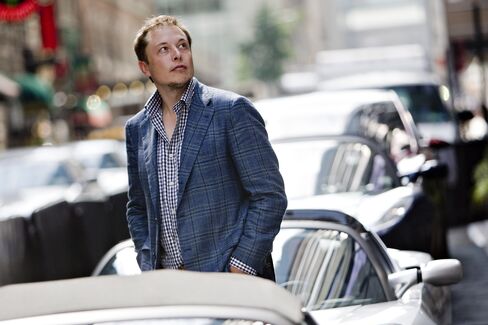 Tesla shares have seen a pretty good run up in 2015 after struggling towards the end of last year. Shares are now up 12 percent year-to-date while the Nasdaq is higher by about 7 percent and S&P 500 is up less than 2 percent. This has caused some on Wall Street to ask if the trend can continue, and Baird says it can.
While firms like CLSA have been more skeptical, Baird reiterated its outperform rating and boosted its price target to $335 from $275 leading up to Tesla's shareholder meeting tomorrow. In a note out this morning, the team of analysts led by Ben Kallo think there's still time to buy shares before another leg higher. The firm sees ongoing skepticism regarding key products as a reason there's still value in the shares.
Here are the potential positive catalysts the firm touches on in the note:
The shareholder meeting tomorrow
Second quarter delivery announcement, which Baird expects in early July
Model X launch, expected in the third quarter
Model 3 prototype, which Baird in predicting for the first half of 2016
Kallo and his team also discussed the skepticism and "misinformation" they see as surrounding the stock. Much of the investment thesis seems to revolve around the launch of the Model X, which has seen delays. In the note, one of the key factors that the team says will come with a successful launch of the new vehicle is the expansion of Tesla's addressable market.
Sales of the Model X should be supported by growing market for premium luxury SUVs. We estimate the U.S. market for premium luxury SUVs to be ~235k vehicles, based on 2014 premium SUV sales. We believe the large U.S. market will support sales of the Model X as we think the vehicle will have better performance and safety than many competing vehicles, similar to the Model S.
Kallo then looks back at what shares of Tesla did following the launch of the Model S. It was quite the rise, as shares went from from less than $30 a share to nearly $200.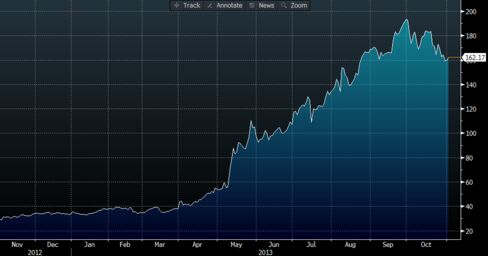 Here's what Kallo had to say about it:
On 11/12/2012 the S received Motor Trend Car of the Year award, and during 2013 TSLA scaled its production and delivered 22,477 vehicles (although many factors led to the rapid appreciation of shares over this time). We are not claiming the X will have this dramatic of an impact on shares, and obviously shares appreciated over this timeframe as TSLA proved it could ramp and sell its first vehicle produced in-house. We think, however, it is worthwhile to highlight the impact of the successful launch/reception/ramp of the Model S.
Before it's here, it's on the Bloomberg Terminal.
LEARN MORE