'Crazy' Auckland House Prices Leave RBNZ's Wheeler in Bind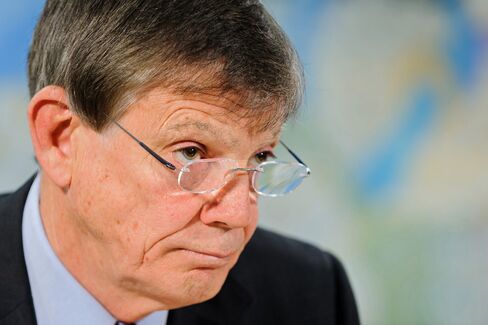 Auckland mortgage broker John Bolton says business went through the roof when central bank Governor Graeme Wheeler started talking about cutting interest rates.
Bolton's Squirrel Mortgages has more than doubled loan volumes since March, when Wheeler removed a bias toward higher rates and outlined conditions that might warrant a cut. The boom highlights Wheeler's dilemma: responding to near-zero inflation risks stoking a housing bubble in New Zealand's largest city.
"That change in how we describe future interest rates, I think, has basically fueled the craziness that we're seeing this year," Bolton said. "As busy as we are in this crazy Auckland market, I sit here and go 'do you really want to drop rates?'"
Wheeler is under pressure to lower borrowing costs as slumping dairy prices damp economic growth and inflation sits below his 2 percent target for a fourth straight year. The governor brings historical perspective as he monitors the Auckland housing market, where average prices now outstrip London's. He watched the U.S. sub-prime crisis unfold as a senior World Bank official in Washington.
"He is walking a fine tightrope," said Christina Leung, senior economist at the New Zealand Institute of Economic Research in Auckland, who doesn't expect any rate reductions. "I don't think he wants to be the governor that triggered the housing market bubble and its imminent collapse."
Rate-Cut Bets
Traders are pricing in a 53 percent chance that Wheeler will lower the official cash rate by a quarter point to 3.25 percent on June 11, down from as high as 71 percent on May 28. While only six of 16 economists in a Bloomberg survey agree he will act this week, nine predict lower borrowing costs by the end of the year.
For exporters struggling with a strong New Zealand dollar - - buoyed by the Reserve Bank's policy tightening last year -- lower rates can't come soon enough.
The kiwi neared parity with the Aussie dollar in April and could reverse its decline since then if Wheeler doesn't deliver a cut this week, according to ASB Bank and the Bank of New Zealand.
"It beggars belief the Reserve Bank is acting so slowly," said John McVicar, chief executive of McVicar Timber Group Ltd. in Christchurch, which exports lumber to Australia, Asia and North America. "We're out of kilter with the rest of the world, and out of kilter with Australia."
Beating London
The Reserve Bank of Australia cut rates in February and May to a record-low 2 percent even as Sydney's housing boom continued. Australia's biggest city, where prices rose 15 percent in May from a year earlier, is in the grip of a bubble, Treasury Secretary John Fraser said June 1.
House prices in Auckland surged 16 percent in May from a year earlier, the fastest increase in 11 years, property research firm Quotable Value New Zealand said Tuesday. Prices nationally rose 9 percent, the most in 15 months.
At NZ$828,502 ($590,556), the Auckland area's average house price is higher than Greater London's 369,332 pounds ($566,924) and compares with Sydney's median of A$752,000 ($579,190).
While a housing shortage, record immigration and low mortgage rates are helping drive the jump in Auckland prices, attention has turned to the role of speculators and investors, including those from overseas.
Lending Curbs
Last month, the RBNZ announced new measures aimed at Auckland residential property investors. From Oct. 1, it will require them to have a deposit of at least 30 percent. The central bank expects this to reduce the city's house-price inflation by as much as 4 percentage points.
The measures, combined with stricter enforcement of a capital gains tax on any property sold within two years of purchase, will slow the pace of house-price gains in Auckland to 10 percent or less by mid-2016, said Darren Gibbs, chief New Zealand economist at Deutsche Bank AG.
"The RBNZ has worked out that what's really driving prices in Auckland is the investor community, and what they're doing is going to be more effective than they think," said Gibbs, who expects Wheeler to act this week. "There's nothing standing in the way of a rate cut."
With economic growth slowing and inflation of just 0.1 percent threatening to damp wage and price-setting, Wheeler has reason to loosen policy. The problem is that as soon as he does, markets will expect him to cut again, said NZIER's Leung.
"You would get this snowball effect, and I would hate to think what that would do to the housing market in Auckland," she said. "The best course of action is to remain on hold with a conditional easing bias, leaving that door open for an interest-rate cut but not taking the risk, because it would just throw fuel on the housing market fire."
Before it's here, it's on the Bloomberg Terminal.
LEARN MORE