Mexicans Head to Vote Unlikely to Punish Pena Nieto Failings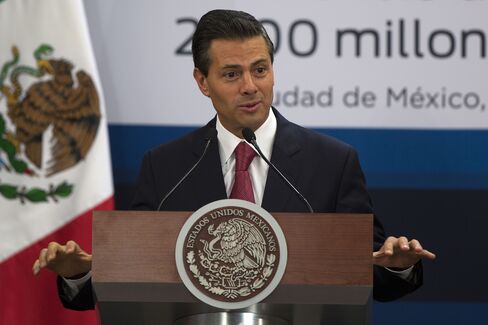 Mexicans headed to the polls Sunday in national elections halfway through President Enrique Pena Nieto's term, with opinion polls showing his coalition poised to retain a near-majority in the lower house.
Thousands of soldiers and federal police safeguarded voting sites, and more than 98 percent were able to open, according to Mexico's electoral institute.
The biggest disruptions were in the southern states of Oaxaca, Guerrero and Chiapas, where protesters angry over Pena Nieto's education overhaul and outraged at the slaying of 43 teaching students last year burned ballot boxes and other electoral materials.
Pena Nieto's opposition has struggled to capitalize on the government's tainted reputation in spite of disappointing economic growth, an ongoing drug war and allegations of cronyism surrounding the 48-year-old leader, said Roy Campos, head of polling agency Consulta Mitofsky. Rivals have pulled punches to avoid bringing greater scrutiny on their own internal divisions and corruption scandals, he said.
"Whatever this government has done, there won't be a strong rebuke at the polls," said Jose Antonio Crespo, a political analyst at the Center for Economic Research and Teaching in Mexico City. "The PRI has the biggest bloc of core voters and it's the only true national party. There's also a perception that the opposition is inexperienced and inept. It's debatable, but that's what a lot of people think."
Lower House
All 500 seats in the lower house are up for grabs along with governorships in nine states, including that of Nuevo Leon, one of Mexico's wealthiest, and the council in Mexico City. The race will set the stage for Pena Nieto's final three years in office and could help determine the chances for his Institutional Revolutionary Party to retain the presidency beyond 2018.
Pena Nieto's PRI held power for seven decades until 2000, mostly under a patronage system that masked one-party monopoly in the guise of democracy and was dubbed "La dictadura perfecta," or "the perfect dictatorship" by Peruvian Nobel Prize-winning novelist Mario Vargas Llosa. The phrase was borrowed for the title of a popular 2014 Mexican film mocking Pena Nieto, and the perception that the political system still unfairly favors his party has been a rallying point for protesters.
Throwing Stones
Pena Nieto cast his vote at an elementary school in Mexico City on Sunday morning alongside first lady Angelica Rivera, calling the day an exercise in democracy. Meanwhile, in the town of Tixtla, Guerrero, residents defending their right to vote threw stones at demonstrators who blocked their access to polling places and burned ballot boxes, the newspaper Milenio reported.
The students killed in last year's massacre had studied at a school nearby before their disappearance. Milenio also reported fires at polling stations in Oaxaca and Chiapas.
Voting stations are open from 8 a.m. to 6 p.m. on Sunday across Mexico's three time zones. While the electoral institute expects results by around 11 p.m. in Mexico City, exit polls may be available soon after voting sites close.
Should the PRI hold its ground in the lower house, it would buck the trend of the three most recent midterm elections, where National Action Party presidents Felipe Calderon and Vicente Fox, as well as the PRI's Ernesto Zedillo, lost support in the chamber. Mexico's senators serve six-year terms, and the full upper chamber will be renewed in 2018, when Pena Nieto's single term ends.
Oil Opening
In his first two years in office, Pena Nieto had success with plans to boost competition in the nation's telecommunications industry and end the state monopoly on oil production -- the most important economic policy change since the North American Free Trade Agreement took effect in 1994. Those victories earned him a portrait on the cover of Time magazine in February 2014.
Still, gross domestic product growth has missed analyst estimates in eight of the past 12 quarters and has trailed the U.S. for two straight years. Economists have cut their forecasts for this year's expansion to 2.7 percent, down a percentage point in the last seven months, according to a central bank survey.
The midterm elections have been tainted by violence, with at least four candidates for public office killed since the start of the campaigns. Activists and a teachers union are calling for election boycotts in poorer southern states, where a group burned 116,000 ballots last week.
The violence spotlights Pena Nieto's inability to pacify a country riven by drug warfare that has left 70,000 dead and more than 20,000 missing since 2006.
Independent Candidate
The PRI may be in trouble in Nuevo Leon, where some polls show an independent candidate has a chance to beat out established parties and become governor for the first time in at least 88 years. The state, bordering Texas, includes the industrial powerhouse of Monterrey and is home to companies including cement maker Cemex SAB, autoparts producer Alfa SAB and Coca-Cola bottler Fomento Economico Mexicano SAB.
Independent candidate Jaime Rodriguez, known by the nickname "El Bronco," has a commanding lead over the PRI candidate, Ivonne Alvarez, according to a June 3 poll by El Norte newspaper. Another poll by GEA-ISA released June 2 showed voters favoring Alvarez.
The National Action Party, known as the PAN, whose traditional backing has come from the nation's north, is expected to remain the second-largest party in the lower house with a similar number of seats to the 114 it won in 2012, according to Mitofsky.
Iguala Slaying
The Democratic Revolution Party, or PRD, whose support is centered in Mexico City and the nation's poorer south, is poised to lose seats. The party was tarnished by the 2014 college students' massacre in Iguala, Guerrero because the town's mayor, a PRD member, was accused by the federal government of collaborating with the drug cartel that allegedly kidnapped and killed the students.
"Voter discontent seems to have spread to the entire political establishment," Alberto Ramos, chief Latin America economist at Goldman Sachs Group Inc., said in a research report.
In the longer term, if violence and corruption persist and growth remains weak, Mexico in 2018 could see an anti-establishment presidential candidate, Ramos said.
Before it's here, it's on the Bloomberg Terminal.
LEARN MORE