EU Treaty Targeted as U.K. Conservative Faction Plots Exit Fight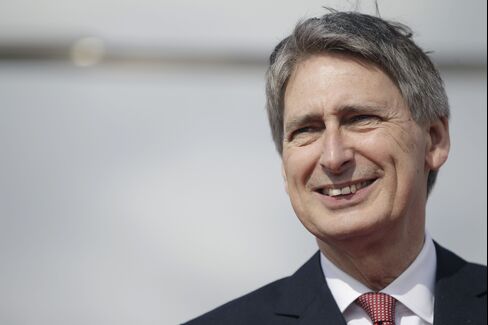 U.K. Foreign Secretary Philip Hammond insisted a European Union treaty change is achievable as part of renegotiation talks, as a faction of Conservative lawmakers formed to spearhead the fight to exit the bloc.
"Our experience is that the European Union, when it puts its mind to it, can be quite flexible and quite effective," Hammond told BBC Television's "Andrew Marr Show" on Sunday. "We've actually had two treaty changes since 2010 on issues which the euro-zone members wanted to get done. So they can do these things when they want to do them."
Hammond's rebuttal to other EU member states including France that don't want treaty change underscores the difficulties involved in renegotiating U.K. membership. Waiting in the wings is a group of lawmakers in Prime Minister David Cameron's Conservative Party who announced on Sunday that they are ready to campaign for an exit.
"We think it would be remiss not to prepare for an out campaign," Steve Baker, the lawmaker leading the newly-formed Conservatives for Britain, said on Sky News television. He said the number of colleagues supporting him is "a little over 50 confirmed right now. I think I can get another 50 more." The Conservatives have 330 lawmakers in the 650-seat House of Commons.
Currently, 59 percent of voters would vote yes to stay in the EU, compared with 41 percent favoring an exit, according to an ICM poll cited by the Sunday Telegraph newspaper.
Cameron will need to tell voters about the full consequences of leaving the EU, Polish Deputy Foreign Minister Rafal Trzaskowski told the Observer newspaper in an interview.
Keeping Goodies
"It really depends on how the whole thing is depicted by British political parties to the British people -- what kind of alternative is painted," he said. "You cannot keep all the goodies and forget about the costs."
One probable disagreement between the government and the Conservative anti-EU faction is on the power of dissent that Britain could exert toward bloc policies it doesn't agree with.
"The government, for most colleagues -- not all, but for most colleagues -- would need to give us the power to veto legislation if did not suit the interests of the United Kingdom," Baker said. "That's likely to be a real sticking point."
Hammond said that a "unilateral red-card veto" is not achievable.
"That would effectively be the end of the European Union," he said. "What we're looking for is a system where a group of national parliaments could operate a red card. Ultimately that would probably need to be dealt with by treaty change."
Before it's here, it's on the Bloomberg Terminal.
LEARN MORE