Barcelona Wins Fifth Champions League as Xavi Makes Final Cameo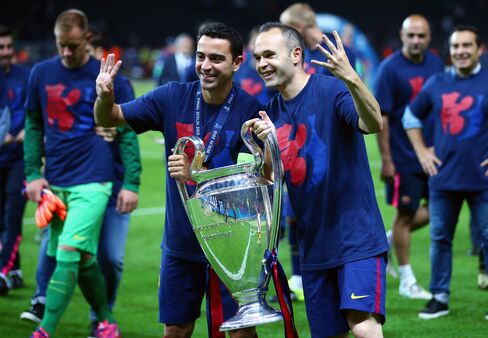 Barcelona's midfield axis of Xavi Hernandez and Andres Iniesta looks like they have won their last trophy together: a fourth Champions League trophy in a decade.
Xavi, who is leaving for Qatar's Al-Sadd after this season, replaced Iniesta in the 77th minute as Barcelona beat Juventus 3-1 at the Olympiastadion in Berlin.
Barcelona went ahead on a fourth-minute goal by Ivan Rakitic. Alvaro Morata levelled for Juventus in the 55th minute before Luis Suarez and Neymar put the game out of reach.
"That's the last game for us," Iniesta, the man of the match, told reporters. "It's the best image we can leave, winning the Champions League."
Barcelona, which also won the Spanish league and cup this season, is the first team in European soccer to win a so-called treble on two occasions. It now has five elite European titles, drawing level with Liverpool and Bayern Munich. Only Real Madrid with 10 and AC Milan with seven have more.
The Catalan team handed Juventus a record sixth loss in a European Cup final.
Xavi, 35, has played more than 500 times for Barcelona in the last 18 seasons, although he only started two Champions League games to Iniesta's 10 this season. Iniesta, 31, will stay with the team next season.
The 5-foot-5 (1.7-meter) Xavi and 5-foot-6 Iniesta also helped win Spain win its first World Cup in South Africa in 2010 and pushed Barcelona to seven La Liga titles in 11 years.
"It gives you a shiver when look back and realize the things we've managed to achieve," Iniesta said.
Barcelona passes the mark of six other European teams who have won the treble once: Glasgow Celtic (1967), Ajax Amsterdam (1972), PSV Eindhoven (1988), Manchester United (1999), Milan's Internazionale (2010) and Bayern Munich (2013).
Although they haven't won the personal accolades collected by four-time FIFA world player of the year Lionel Messi, Xavi and Iniesta have gotten plenty of praise.
"I don't think Iniesta and Xavi have ever given the ball away in their lives," Alex Ferguson, the then Manchester United coach, said in 2009. "They get you on that carousel and can leave you dizzy."
Barcelona's short-passing style, dubbed tiki-taka, has evolved since they won earlier Champions League titles under Frank Rijkaard and Pep Guardiola although the team still dominates possession.
Iniesta and his teammates, now coached by Luis Enrique, made 16 passes on the way to Rakitic's goal. Morata made it 1-1 in 55th minute after goalkeeper Marc-Andre ter Stegen could only parry Carlos Tevez's shot into the forward's path.
"I thought we could win but Barcelona got away," Juventus coach Massimiliano Allegri told a news conference. "They were extraordinary and we were unable to stop them."
Suarez scored in the 68th minute after Messi tore up the defense and Gianluigi Buffon parried his shot.
Neymar has a goal disallowed two minutes later when the ball deflected off his head onto the back of his hand and into the net. He later scored with the last kick of the game.
The Brazilian tore off his jersey and vaulted advertising hoardings next to the field to celebrate.
"Last year we won nothing," coach Luis Enrique said. "We had injuries and new staff. After that difficult year, the team has come together and done the things right throughout the season. They've overcome difficulties and tough times together; together we're stronger and that's when individual quality comes out."
Before it's here, it's on the Bloomberg Terminal.
LEARN MORE