Turhan Lays Out Vision to Remake Turkish Institutions for Growth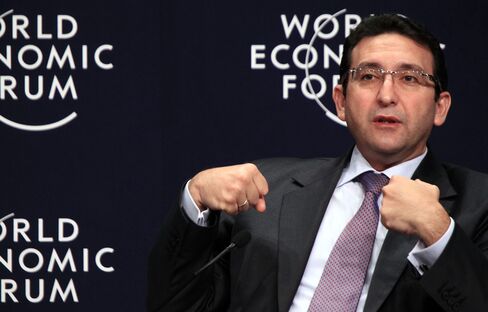 Turkey's central bank is being asked to do too much with too little, according to Ibrahim Turhan, a ruling party candidate for elections on June 7 and the former head of the Turkish stock exchange.
The bank should be given more flexibility to support objectives including growth while protecting the economy against risks, said Turhan, who's seen by investors as a potential successor to economy chief Ali Babacan, in an interview between campaign events in Izmir on Thursday. Asked to provide an example, he suggested a model along the lines of the U.S. Federal Reserve.
While the central bank's primary objective must remain price stability, its main gauge of inflation should be reviewed, he said. That would allow it to focus on elements of inflation that it can control, while ceding responsibility for those it can't, such as food prices, to other institutions, he said.
"The central bank is trying to do everything by using its most important and strongest tool which is interest rates," he said, citing targets ranging from price stability and financial stability to preventing macro-systemic risk by controlling the current-account deficit. "But interest rates were not made for this."
Credible Candidate
Some investors are rooting for Turhan, a former deputy governor of the central bank who taught monetary policy at university level, to get the top job in the economic administration after Babacan steps down on June 7. Turhan is "by far" the most credible candidate for that post and markets would likely welcome his appointment, Societe Generale said in a June 1 report.
Debate over monetary policy has hit Turkish assets hard in the past year, as President Recep Tayyip Erdogan and his allies in government slammed Governor Erdem Basci for refusing to cut interest rates fast enough and boost below-trend growth. The lira weakened to a record low in April, and bond yields have increased at more than three times the pace of any other emerging market.
Much of that conflict could be resolved by expanding the powers of the central bank, simplifying policy and clearer communication, Turhan said. In an effort to pursue multiple objectives with limited tools, Turkey's bank was forced to design a creative policy of variable interest rates that mostly confused investors, he said.
Investor Complaints
"One of the most widespread complaints by investors is about the over-complicated monetary policy framework in Turkey," he said. "Sometimes investors ask when the bank takes a decision whether it's a tightening move or a loosening move. They have a hard time understanding this."
Looking at the bank's failure to meet inflation goals -- it's missed its target for four years in a row -- may not be the best way to measure its performance, he said. Turkey could consider targeting core inflation measures like the U.S., or adopting "smoothing models" used by the European Central Bank, he said.
"There are certain elements in headline inflation that have nothing to do with monetary policy," he said, citing a "stubborn, supply-side food price problem" in Turkey. Such inflation could be handled better by other government policies, he said.
"We end up having a perception that the central bank cannot fight against inflation and this isn't good, because half of central banking is about technicalities and half is about communication," he said. "If we can communicate what we are doing in a very rational way with the market community, I don't think we'll have any problem at all."
Growth Story
Turhan is the ruling party's top candidate for the Aegean coastal city of Izmir, the nation's third-largest, meaning he's almost guaranteed a place in parliament. He declined to comment on any potential cabinet role, saying he'd push for a policy of "renewal within continuity" should he have influence over economic policy.
"When I say continuity, it has to have three parts," he said. "Increasing the efficiency of the free-market economy, keeping Turkey as an open economy and continuing to be an attractive destination for global capital, and private sector-led growth."
Renewal would include restructuring institutions, which were designed in the wake of a devastating economic crisis in 2001 that saw more than 20 banks collapse. Turkey could now consider folding the functions of the banking regulator, the BDDK, into an empowered central bank, he said.
"Maybe revisiting the existing structures and whether they are in line with the existing needs of the Turkish economy," he said. "In 2001, the need was to restore stability: now we have to keep stability but we have other needs."
Primary among those is growth, he said. The AK Party has placed economic growth at the center of its agenda, and will implement policies designed to attain it on "day one" after the election, he said.
"Investors are no longer interested in interest rate differential, as they used to be," he said, referring to traders who seek higher returns by investing in economies that offer relatively high interest rates, like Turkey. "They are more focused on: 'What is your growth story?''
Before it's here, it's on the Bloomberg Terminal.
LEARN MORE