Surge in Jobs Gives Fed Clearer Path to Raise Rates This Year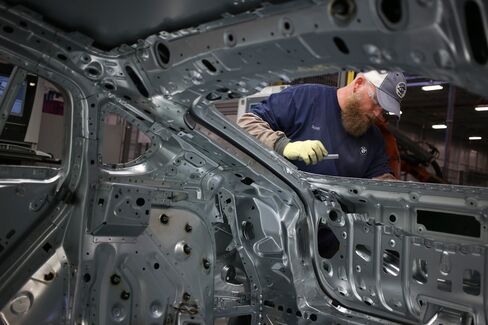 The resurgent U.S. job market is providing Federal Reserve officials reason to look beyond the economy's first-quarter swoon toward an increase in interest rates later this year.
The 280,000 rise in payrolls in May suggests that the central bank is making progress toward its goal of maximum employment, William C. Dudley, president of the Federal Reserve Bank of New York, said on Friday. The gains were widespread and were accompanied by a bit higher wages, he added.
"It is likely that conditions will be appropriate to begin monetary policy normalization later this year," Dudley, who is vice chairman of the central bank's policy-making Federal Open Market Committee, said in a speech in Minneapolis.
While Dudley hedged his forecast by saying a move wasn't certain, his assertion was more definitive than comments earlier in the week by some other officials who voiced doubts about the strength of the economy. Fed watchers consider Dudley a confidant of Chair Janet Yellen and thus see his views as more indicative of where the central bank is heading.
Traders of money-market derivatives lifted the chance of the Fed raising rates this year following the jobs data. Futures show a 50 percent chance the Fed will increase interest rates by its October meeting, up from 43 percent Thursday, according to CME Group data.
September Likelier
"The most consistent message from policy makers this week is that they're still data dependent, and we got one pretty big piece of data today, and that solidifies the chances for a September rate hike," said Guy Berger, U.S. economist at RBS Securities Inc. in Stamford, Connecticut
The FOMC meets on June 16-17 to plot monetary strategy. At their last gathering in April, many policy makers considered it unlikely they would increase rates in June, according to minutes of that meeting released by the central bank.
The benchmark federal funds rate has been kept near zero since December 2008 as the FOMC battled the worst recession since the Great Depression and then sought to keep the expansion going. The committee has said it will raise rates when it sees further labor-market improvement and is "reasonably confident" inflation will rise back to its 2 percent goal over time.
Policy makers have been puzzling for months over a disconnect in the economy. While the job market has stayed strong, the economy as measured by gross domestic product has been weak. GDP contracted at an annual rate of 0.7 percent in the first quarter, its worst performance in a year.
Transitory Forces
Much of the debate has centered around how much of the first-quarter swoon in GDP was due to transitory forces, including harsh winter weather and a since-ended labor dispute at West Coast ports, and how much was symptomatic of a more persistent weakness in the economy.
Fed Governors Lael Brainard and Daniel Tarullo earlier this week both questioned if the slump could be written off as due largely to temporary headwinds, and the International Monetary Fund called on the Fed on June 4 to delay a rate increase to the first half of 2016.
Dudley said that the first-quarter contraction was due to a mix of factors, both transitory and more lasting. He nevertheless ran off a number of reasons to expect the economy to strengthen, including a revived housing market and healthier consumer finances.
What's not clear, though, is whether the pickup will be strong enough to sustain a further improvement in the labor market, he added.
More Confidence
JPMorgan Chase & Co. chief U.S. economist Michael Feroli said FOMC policy makers should take comfort from the latest jobs data. Last month's increase in payrolls was the biggest since December. Unemployment ticked up to 5.5 percent, though that was because more Americans entered the labor force looking for work.
"The May jobs number should give the Committee more confidence that the first quarter weakness was transitory and that growth now appears to be on more stable footing," Feroli said in a June 5 note to clients.
Fed officials also should take encouragement from signs that wages are starting to pick up, economists said. That would be seen within the FOMC as evidence that they're making headway in achieving their goal of maximum employment without triggering too much inflation.
When the economy is at full employment, companies increasingly find that they have to offer higher pay to attract new workers or keep the ones they have. That boosts their costs and pushes them to raise prices to make up the difference, increasing inflation.
Earnings Increase
Average hourly earnings increased 0.3 percent in May from the prior month, the biggest gain since January. They were up 2.3 percent from May 2014, exceeding the 2 percent gain on average since the current expansion began six years ago.
Dudley highlighted the rise in earnings of U.S. workers in his speech on Friday. He also pointed to recent gains in the employment cost index that is calculated by the Labor Department, saying that was the most reliable indicator of labor cost trends.
Wages for private-sector employees climbed 0.7 percent in the first quarter and were up 2.8 percent in the 12 months through March, the biggest gain in more than six years, according to that index.
Dudley said that he was becoming more confident that inflation will move up to the Fed's 2 percent goal in the medium term, noting that some of the forces that have pushed it lower recently, including a rise of the dollar and a fall in oil prices, have partly reversed.
The Fed's favorite price gauge, based on the personal consumption expenditures index, was unchanged in April from the prior month and was up 0.1 percent from a year earlier. That was the smallest 12-month gain since October 2009.
"I am somewhat less worried that inflation will stay too low," Dudley said. "Thus, I continue to expect that monetary policy normalization is likely to begin later this year."
Before it's here, it's on the Bloomberg Terminal.
LEARN MORE