Skymark Creditor Intrepid Says Seeking Other Airline Sponsors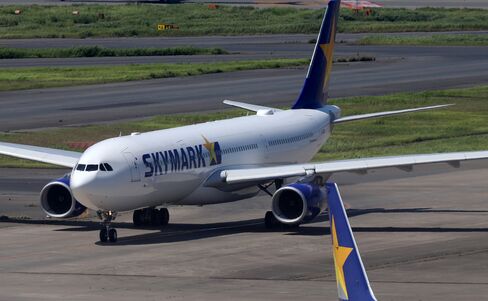 Skymark Airlines Inc.'s largest creditor says it's negotiating with "multiple airlines" that could serve as sponsors in an alternative rehabilitation plan for the bankrupt Japanese carrier.
Airplane lessor Intrepid Aviation Ltd., which says it's owed 104 billion yen ($836 million) by Skymark, filed its plan to the Tokyo District Court on May 29. Intrepid says a plan Skymark presented the same day -- which would give a 16.5 percent stake to ANA Holdings Inc., parent company of All Nippon Airways Co. -- won't win necessary support.
"We believe that the largest creditors will vote for our alternative plan because it will ultimately minimize damages, reduce overall rehabilitation claims and will therefore result in higher recovery rates for ALL creditors," Intrepid Chief Investment Officer Brian Rynott said in a press release Friday.
Skymark, Japan's third-largest airline, filed for bankruptcy protection in January with liabilities of about 300 billion yen. Its rehabilitation plan asks creditors to accept a 5 percent repayment rate on their debts.
Skymark's largest creditor after Intrepid is Airbus Group SE, which is demanding 85 billion yen to compensate for a canceled order of six A380 superjumbo planes.
In its statement, Intrepid says it's "in the process of identifying candidates for a new airline sponsor" to support Skymark's turnaround, focusing on carriers with "a strong presence and operations in Japan."
Japan's Nikkei newspaper reported that one potential candidate is Delta Air Lines Inc. Hiroko Okada, Delta's spokeswoman for Asia, declined to comment.
Before it's here, it's on the Bloomberg Terminal.
LEARN MORE