Odds of September Fed Liftoff Climb After Payrolls Beat Forecasts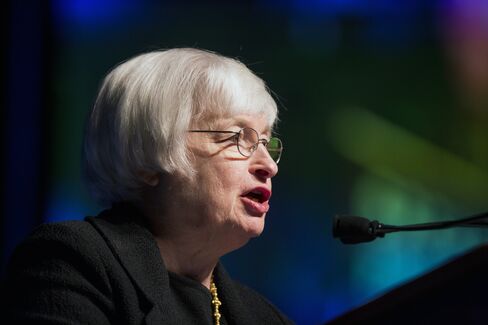 The odds of a Federal Reserve rate rise in September improved after the best jobs report in five months eased concerns that the U.S. economy is struggling to regain momentum after a first-quarter contraction.
"I would characterize this as a very strong result," said Carl Tannenbaum, chief economist at Chicago-based Northern Trust Corp. "It certainly brings a September rate increase into much clearer focus."
Employers added 280,000 workers to non-farm payrolls in May, beating the median forecast in a Bloomberg survey, figures from the Labor Department showed Friday in Washington. Average hourly earnings rose 2.3 percent from May 2014, exceeding the average gain since the current expansion began six years ago.
Fed Chair Janet Yellen and her colleagues are trying to figure out if economic weakness at the start of the year is transitory or longer-lasting, as they consider the timing of their first rate rise since 2006. Fed officials next meet to discuss policy on June 16-17, and Yellen will hold a press conference after the gathering.
"If you're Janet Yellen, and you're looking for all the check boxes, this jobs report definitely met them," said Guy Lebas, managing director at Janney Montgomery Scott LLC in Philadelphia.
The figures released today also show that the labor force participation rate rose, a sign that people outside the workforce were encouraged to begin seeking employment.
Take Comfort
"The Fed can take some comfort in its baseline forecasts," said Neil Dutta, head of U.S. economics at Renaissance Macro Research LLC in New York. "The economy is reasonably healthy. Payrolls are strong, wages are up, unemployment is basically unchanged."
Investors brought forward their expectations for the timing of liftoff. Bets in interest-rate futures markets show the odds for a move in September rising to 33 percent from 27 percent prior to the payrolls data. Some 53 percent now expect the Fed to act in October, versus with 44 percent before, according to CME Group Data.
Yellen said on May 22 that she still expects to raise rates this year if the economy meets her forecasts. Those remarks were before government data showed the economy shrank by 0.7 percent at an annual rate in the first quarter.
Governors Lael Brainard and Daniel Tarullo earlier this week both questioned if the slump could be written off as due largely to temporary headwinds, and the International Monetary Fund yesterday lowered its U.S. growth forecast for this year and called on the Fed to delay a rate increase to the first half of 2016.
Data Dependent
Policy makers want to let readings on the economy dictate the timing and pace of rate increases. They want to see continued improvement in the labor market and have reasonable confidence that inflation is heading back toward their 2 percent goal before acting.
"If we get another number like this in a month, the Fed would be hard pressed to say we are going to wait until September," said John Silvia, the chief economist at Wells Fargo Securities LLC in Charlotte, North Carolina. "July would be a realistic option," he said, while adding that he thought it would be difficult to move without a press conference.
The policy-making Federal Open Market Committee is scheduled to gather on July 28-28, followed by a meeting on September 16-17. While a press conference isn't scheduled for next month, Yellen has said that the Fed could move at any meeting, and it could stage a telephone press conference to explain a decision if necessary. Officials tested the equipment on April 29.
Before it's here, it's on the Bloomberg Terminal.
LEARN MORE