Rwandans Back President for 3rd Term, Finance Minister Says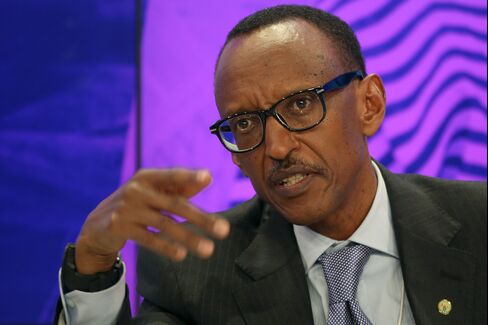 Rwandan voters want President Paul Kagame to serve a third term and have the power to change the constitution to make this happen, Finance Minister Claver Gatete said.
"The president has not said he wanted a third term, the president has made it very clear that he will follow the law," Gatete said Thursday in an interview at the World Economic Forum on Africa in Cape Town. "But the people of Rwanda have a say in whoever has to be the leader and also what the constitution should look like."
Kagame has been in power since 2000 after he led a rebel army that ended the 1994 Rwandan genocide of about 800,000 people. The country's parliament said last month it received 2 million signatures calling for a constitutional amendment that would allow Kagame to extend his rule for another seven-year term at elections scheduled for 2017.
Rwanda has a $7.5 billion economy that relies on exports of crops including coffee for most of its foreign-exchange revenue. Starbucks Corp., the world's largest coffee-shop operator, plans to double its purchases of the country's output. The East African nation sold $400 million of Eurobonds for the first time in April 2013.
In neighboring Burundi, the ruling party's nomination in April of President Pierre Nkurunziza to seek a third term in office sparked violent protests that left at least 21 people dead and more than 550 injured.
Investor Sentiment
"In Burundi it's the opposite, the leader is saying we want a third term, but some of the people are saying we don't see it that way," Gatete said. "Here for us it's not the president who is saying anything, it's ordinary people."
Human rights activists have accused Kagame's administration of clamping down on dissent and stifling the media, a criticism the government denies. The European Union on Friday criticized Rwanda's decision to suspend the British Broadcasting Corp.'s local-language Kinyarwanda service after it aired a documentary on the 1994 genocide, saying the move restricted free speech. Rwanda's regulator said it suspended the service in October after receiving complaints about the program that it needed to investigate.
Rwanda and Burundi are part of the East African Community, which together with Kenya, Uganda and Tanzania form a five-nation trade bloc with a $110 billion economy. Ugandan President Yoweri Museveni, who has ruled Africa's biggest coffee exporter since 1986, has yet to say whether he will seek another term. In Tanzania, President Jakaya Kikwete is stepping down at the end of his second mandate after October elections.
Doing Right
The unrest in Burundi won't undermine investor sentiment in the region or harm economic growth in Rwanda, where as many as 27,000 refugees have fled, Gatete said.
"This is happening in Burundi, it's another country," he said. "What Rwanda is doing can be seen by everyone, in terms of making sure that we do the right things, in terms of promoting the investment."
Makhtar Diop, the World Bank's vice president for Africa, is less sanguine. He said the conflict in Burundi may damage investors' perceptions of the whole continent.
"Situations like the one in Burundi and other countries facing a bit of instability show that progress made in a decade can be offset in a year," Diop said in an interview in Cape Town on Friday. "This stop-and-go is a most detrimental element to sustainable growth."
Before it's here, it's on the Bloomberg Terminal.
LEARN MORE