Russia Commits to Years of Monetary and Fiscal Rigor Amid Crisis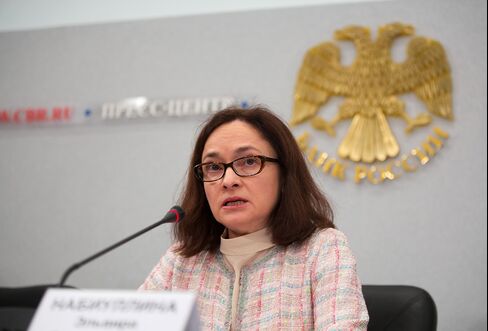 Russia will have to stomach tight monetary and fiscal policy for years to come as inflation and pressure on the budget leave no room for a looser stance, according to Finance Minister Anton Siluanov.
"We should conduct tight monetary and fiscal policy to have stable finances," Siluanov said at the International Banking Congress in St. Petersburg on Friday. "Russia is now, unfortunately, in such a situation that we have to be extremely tough in both. I think this policy will remain in place in the coming years."
Boxed in by lower crude prices and runaway inflation stoked by the ruble's worst crisis since 1998, authorities have responded with spending cutbacks and six interest-rate increases last year, including an emergency move in December. Export proceeds have shriveled after a crash in the price of oil, which together with gas accounts for about half of budget revenue.
Speaking during a joint appearance with Bank of Russia Governor Elvira Nabiullina, Siluanov urged coordination between the Finance Ministry and the monetary authority as they align their policies. Monetary tightening is "absolutely justified" by the upsurge in inflation, Siluanov said.
Nabiullina on Thursday spoke out against a faster unwinding of rate increases as economic risks linger. The central bank has cut its benchmark three times in 2015 to 12.5 percent as the economy slipped into its first recession in six years.
Inflation, Ruble
Consumer-price growth, which accelerated to the fastest in 13 years in March, subsided to 15.8 percent from a year earlier in May as the ruble partly recouped its losses. The Russian currency has strengthened 7.3 percent this year against the dollar, after losing about half of its value in 2014.
The government will probably run a deficit of about 3 percent of gross domestic product this year, according to Siluanov. The non-oil shortfall, the gap excluding revenue from the energy industry, now exceeds 10 percent of economic output, compared with 3 percent to 6 percent before 2008-2009, he said.
The commitments Russia took on when oil cost $100 a barrel or more are now "unmanageable," Siluanov said.
"The most important thing in current circumstances is to have the volume of spending we can afford, primarily relying on tax revenue, on those resources the state possesses," he said.
Before it's here, it's on the Bloomberg Terminal.
LEARN MORE