OPEC Nations Signal Few Prospects for Oil-Production Change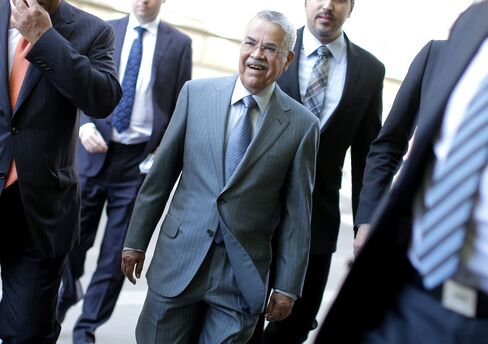 OPEC members signaled that there was little prospect of changing their oil-output target as the 12-nation group gathered in Vienna.
Representatives of Angola, the United Arab Emirates and Libya said Friday they see no need to change the 30-million-barrel daily output target. While Kuwait's Oil Minister Ali Al-Omair said one member would propose a production increase at the semi-annual meeting, his Iranian counterpart said he would not support such a move.
The Organization of Petroleum Exporting Countries agreed in November to maintain production to defend market share, rather than cutting output to support prices. Since then, the group has pumped the most oil in more than two years, exceeding its target for a year. Crude has rebounded about 40 percent from a six-year low reached in January as the global supply surplus prompted investment cutbacks and a collapse in the number of rigs drilling for oil in the U.S.
"It was a good strategy on the whole" that OPEC agreed in November, Iraqi Oil Minister Adel Abdul Mahdi said in an interview with Bloomberg TV, without commenting on the likely outcome of Friday's meeting. "That's why we see prices rising."
Oil headed for the biggest weekly decline since March on speculation OPEC will maintain course, leaving the market oversupplied. Brent crude, the international benchmark, traded at $61.95 a barrel on the London-based ICE Futures Europe exchange at 11:35 a.m. local time, a drop of 5.5 percent this week.
Output Consensus
"It makes little sense for OPEC to reduce its quota today, considering that it will take time for U.S. production to adjust," Michael Lewis, a strategist at Deutsche Bank AG, said in an e-mailed report. "We expect an eventual decline to materialize through the end of the year."
Saudi Arabia, OPEC's largest producer and architect of its November strategy, declined to comment before the meeting on whether the current output target would be maintained. Ali Al-Naimi, the kingdom's oil minister, said he is "100 percent satisfied" with the oil market, Al-Hayat, a London-based Saudi newspaper, reported Friday citing an interview.
"First we need to evaluate the effectiveness of the November decision," Kuwait's Al-Omair told reporters before the start of the meeting. "If it was successful, why do we need to change the target?"
Iran would not support any increase to OPEC's output ceiling and does not expect there to be a consensus for such a move, said Bijan Namdar Zanganeh, the country's minister of petroleum.
Before it's here, it's on the Bloomberg Terminal.
LEARN MORE