Nestle Crisis Deepens as India Orders Recall of Popular Noodles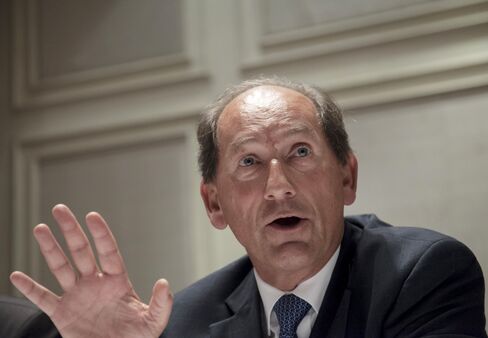 Nestle SA's crisis in India deepened as the nation's food regulator said its Maggi noodles were "unsafe and hazardous" and ordered a recall even as Chief Executive Officer Paul Bulcke rushed to quash a public relations nightmare.
The two sides dug in, defending their respective positions, with Nestle saying it pulled the popular snack off supermarket shelves last night only as a precautionary measure though it was safe for consumption. A routine government test on a pack in April showed too much lead, triggering probes by at least six Indian states.
Bulcke said the company will do "everything it takes" to get Maggi noodles back in shops.
"The trust of our consumers has been shaken, that's why I am here," Bulcke said at a press conference in New Delhi, beamed live on all of India's news channels. "We've had intensive, intensive discussions with the authorities to clarify our argument, and to show our tests we have done."
The withdrawal, Nestle's largest in India, comes as the food-maker reported declining sales in its Asia-Oceania-Africa market mainly due to weak performance in China. Concerns have spread to Nepal, which banned Maggi shipments from India, while Singapore asked importers to temporarily suspend sales. The U.K. and Europe are also reported to be investigating.
'Overwhelming Evidence'
Nestle India shares were little changed at 6,011.60 rupees in Mumbai after plunging 12 percent over the last two days, the biggest such drop in nine years. The noodles account for about 25 percent of Nestle India's sales.
Tests conducted by authorities in four states found "overwhelming evidence of the said food products being unsafe and hazardous for human consumption," the Food Safety and Standards Authority of India said in an eight-page order posted on its website Friday, coinciding with Bulcke's press conference.
The initial test in northern Uttar Pradesh state had found the seasoning contained 17.2 parts per million of the heavy metal, or about seven times the safe limit.
Over-exposure to lead, found in small amounts in the soil, is linked to learning difficulties and even death. Not all of it can be removed by washing or processing, and so many food products contain trace amounts of the metal.
Lack of Understanding
Nestle officials had said during a meeting with the food authority that the controversy emerged due to "confusions created and lack of proper understanding of the issue," the document said. According to the regulator, company officials argued the state labs didn't follow test protocols and the noodles and the seasoning shouldn't have been tested separately.
The agency rejected the company's arguments, saying that every component within the package needs to conform to the limits. Bulcke told reporters that Nestle isn't challenging the tests and is working with authorities on testing methodology.
The regulator ordered the company to recall all variants of its Maggi noodles and remove labels claiming that the product did not contain MSG. The company is to submit daily progress reports on the recall, according to the document.
The U.K.'s Food Standards Agency said Friday it has requested tests on Maggi noodles and is working with the European Commission to investigate reports of high lead levels.
'Do More'
Nepal will ban imports and sales of Maggi following the controversy in India, the Indo-Asian News Service reported, citing an official. Singapore has told importers to temporarily suspend sales of Maggi noodles from India until safety tests on samples are complete.
Maggi noodles have been sold in India for the past three decades. Scores of Indians who started off snacking on it as kids and then in college, now feed it to their own children.
The brand now includes soups, sauces, pasta and wholegrain noodles, comprising about 30 percent of the company's sales in India. It also happens to be the fastest-growing division for the company. The company is facing increasing pressure from rivals in chocolates, milk and nutrition products, and needs to "do more" to hold on to its market share, said Nitin Mathur, Mumbai-based consumer analyst at Societe Generale in Mumbai.
"That's the question that investors need to be asking - what's the company doing about those other divisions," Mathur said. "This Maggi incident happened out of the blue, but the the other divisions have been struggling for a while."
Before it's here, it's on the Bloomberg Terminal.
LEARN MORE