Gross Says Bond Rout Scary as Hell Even Without Bear Market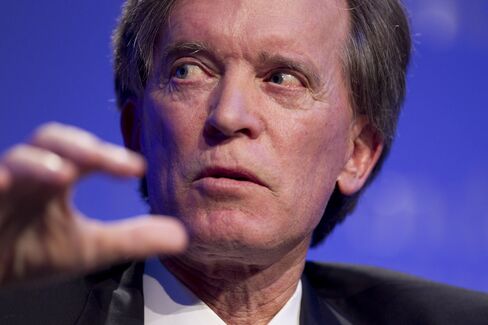 Treasury prices are falling enough to spook even market veteran Bill Gross.
The turmoil has sent U.S. government securities maturing in 10 years and longer down 7.4 percent since the end of March, heading for the biggest quarterly loss since 2010, based on Bloomberg World Bond Indexes. The decline is part of a global selloff, led by German bunds and fueled by what traders say is a lack of liquidity.
"I recognize the tremendous liquidity problems and the ups and the downs on a daily basis -- or even on a minute basis -- and it scares the hell out of me," Gross said in an interview Thursday. "But I don't think we're in for a bear bond market just yet."
Gross, who runs the Janus Global Unconstrained Bond Fund and is the former manager of the Pimco Total Return Fund, also said Treasuries have fallen to fair levels. He co-founded Pacific Investment Management Co. in 1971, according to the Janus website.
The benchmark Treasury 10-year yield rose three basis points, or 0.03 percentage point, to 2.34 percent at 6:56 a.m. New York time, according to Bloomberg Bond Trader data. It reached 2.42 percent on Thursday, the highest since October, having climbed from a year-to-date low of 1.64 percent.
Gross said 2.30 percent is "fair value."
Volatile Market
Treasury market volatility climbed to a three-month high this week, according to the Bank of America Merrill Lynch MOVE Index. The gauge increased to 91.81 Wednesday, from as low as 70.99 on April 27.
"People's faces are within inches of their screens, eyes are glued to the screens, to the news sources, to the price action," said Craig Collins, managing director of rates trading at Bank of Montreal in London. "You see the market move and it's 'what's out, what's out?' Risk appetite is very, very low with the liquidity in the market being very low and that's made for this really choppy price action."
Trading activity is declining because of regulations such as the Volcker Rule and Basel III that require banks to cut back on risky activities and holdings, according to Hajime Nagata, who invests in Treasuries for Tokyo-based Diam Co. Bond-market moves have become exaggerated as a result, he said.
The primary dealers that underwrite America's bonds have cut U.S. government debt holdings to $30.3 billion as of May 27, from a record $146 billion in October 2013, Federal Reserve data show.
Trader Cutbacks
JPMorgan Chase & Co., Morgan Stanley, Credit Suisse Group AG and Royal Bank of Scotland Group Plc have all either cut back their fixed-income trading desks in the past year, or are considering reductions in those businesses.
Central bank bond purchases are adding to the pressure by reducing the available supply.
The European Central Bank and Bank of Japan are both snapping up record amounts of government debt as they try to spur their economies. The ECB increased its purchases in May ahead of the region's summer vacation period. The Federal Reserve's Treasury holdings are near a record after it concluded its own bond-buying program last year.
Even with ECB buying, German 10-year yields climbed to 0.996 percent Thursday from the record low of 0.049 percent set in April.
No Bear Market
Gross said he doesn't see the threat of a bear market in bonds with inflation falling short of the Fed's 2 percent target. The central bank's preferred measure of costs was 0.1 percent as of the most recent report in April.
A period when returns aren't positive is generally considered a bear market in bonds. While securities with the longest maturities have suffered the brunt of the global selloff, other debt investments fared better.
The Vanguard Total Bond Market Index Fund, the biggest bond mutual fund in the world with $118 billion in assets, is little changed this year, according to data compiled by Bloomberg. It's returned 2.6 percent over the past 12 months.
The debt-market selloff probably doesn't have much further to go, said Peter Jolly, the Sydney-based head of market research at National Australia Bank Ltd.
"It's been violent, and it's happened in a short few days," Jolly said. "We're getting to the point where some investors are starting to see value in buying bonds again."
Before it's here, it's on the Bloomberg Terminal.
LEARN MORE