Google Cash Above Dividend-Shunning Peers Spurs Call for Payout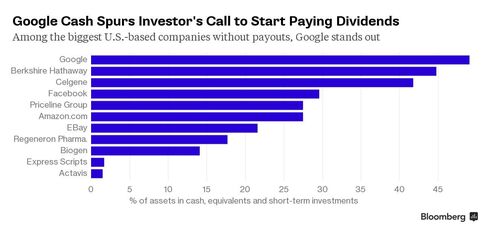 The time has come for Google Inc. to join Apple Inc., Microsoft Corp. and other peers in technology by introducing a dividend, according to Charles Sizemore, chief investment officer of Sizemore Capital Management.
Google, the owner of the most popular Internet search service, has shunned cash payouts since going public in 2004. It's one of 11 U.S.-based companies with market values of more than $50 billion that aren't paying dividends, according to data compiled by Bloomberg.
The attached chart compares the 11 companies' cash, equivalents and investments maturing in a year or less as a percentage of total assets at the end of their latest fiscal quarters. Google had the highest proportion, 49.1 percent. The company, based in Mountain View, California, finished the first quarter with holdings of $65.4 billion.
"It's time to grow up, wear your big-boy pants and start paying a dividend," Sizemore wrote two days ago in a posting about Google. He wrote in an e-mail yesterday that he didn't own shares for himself or his Dallas-based firm's clients.
Google might consider starting with $1.5 billion of dividends annually, he wrote in the posting. Apple, based in Cupertino, California, paid $11.2 billion during the past four quarters. Microsoft, based in Redmond, Washington, distributed $9.7 billion.
To be sure, Google's cash-to-assets figure as of March 31 was the lowest since the third quarter of 2008. The percentage was in line with two of the largest Chinese Internet companies: Alibaba Group Holding Ltd., at 49.3 percent, and Baidu Inc., at 56.5 percent.
Before it's here, it's on the Bloomberg Terminal.
LEARN MORE