Every restaurant in New York seems to have a burger on the menu right now, but which ones deserve your time? I've picked out some favorites this summer, from minimalist cheeseburgers (no tomato, no nothing) to extravagant, avocado-topped beasts. Here are five new offerings you should really get to know:
5. Upland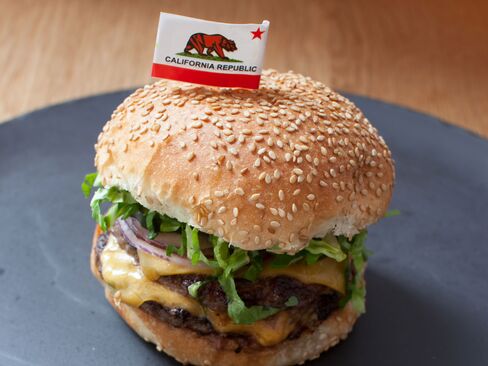 There's something a little ridiculous about the burger at Upland, which is unapologetically over-the-top, spiked with a tiny Californian flag, stuffed with shredded lettuce and bright red peppadew peppers, and—what's that, sliced avocado? Yes. Also, there are two patties here, made with flavorful grass-fed beef but still quite juicy, and stuck together with cheddar. It's not trying to be a classic take on the cheeseburger, but it's an excellent, complete lunch ($20). Upland is at 345 Park Avenue South (Flatiron); +1 212 686-1006 or uplandny.com
4. Church Street Tavern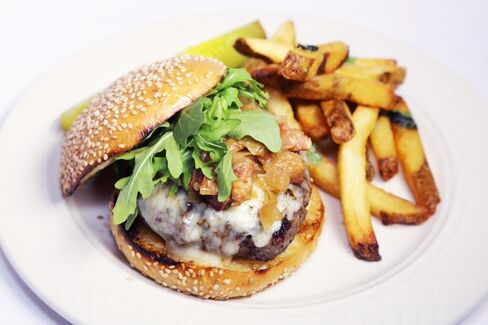 Even those strongly opposed to brioche buns can't argue with the deliciousness of the burger at Church Street Tavern. You'll forgive the presence of suspiciously fancy salad greens when you taste the well-seasoned, dry-aged meat, beefy with rib-eye and fatty wagyu, under a little cheddar and so much properly tart onion-bacon jam ($19). It's a cheffy burger, for sure, but it's also quite enormous and presented without fuss in a dim, cool dining room where you're likely to get a table without jumping through any hoops. Church Street Tavern is at 313 Church Street (Tribeca); +1 212 804-7766 or churchsttavern.com
3. Alder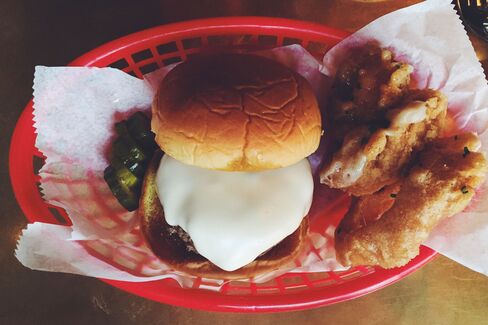 The burger looks squishy and uncomplicated, as if it came from a diner, but this is chef Wylie Dufresne's Alder, where things aren't always what they seem. The meat is ground in-house: a mix of brisket and chuck brought together with dry-aged beef fat and Japanese salted kelp, which you may not notice but work to season and complicate the meat. It arrives on a big Martin's potato roll, which may be one of the finest vehicles in existence for a beef patty, with an even layer of beer cheese. The best way to order it is at the bar and "all in," which means you'll also get a side of sweet, impossibly crunchy fried onions rings covered with a thin layer of gruyere, along with a cold beer ($21). Alder is at 157 2nd Avenue (East Village); +1 212 539-1900 or aldernyc.com
2. Rose's Bar and Grill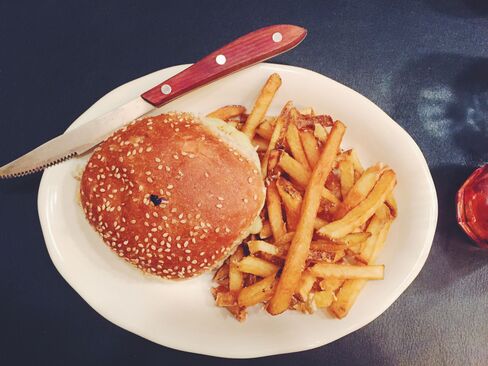 When you get right down to it, what makes a cheeseburger? A bun, a patty, a slice of cheese. That's all. And that's what you get at Rose's Bar and Grill: a perfect, minimalist cheeseburger ($15) in which each component is essential and brought together with care. The bread is very soft and covered in sesame seeds, the patty is caramelized and generously seasoned, and the cheese is sharp and sticky. The fries are glorious as well: thick, dark-edged, and crisp, with tender, steam-releasing centers. Rose's Bar and Grill is at 295 Flatbush Avenue (Prospect Heights, Brooklyn); +1 718 230-0427 or rosesbklyn.com
1. Emily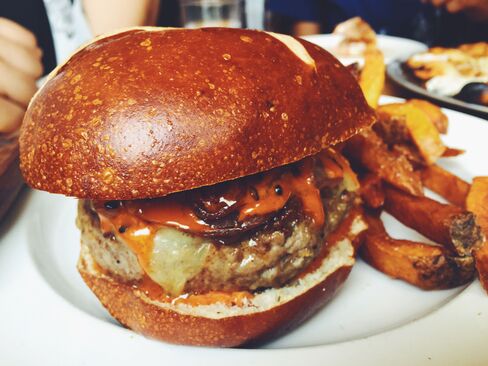 There are only about 25 burgers a night for sale at Emily, a fantastic little pizzeria in Brooklyn, and you want to make sure to get one: The thick and funky dry-aged patties are draped with cheddar and drip with a sweet and spicy Korean gochujang-spiked mayonnaise amplified with garlic butter that has melted a little in the heat ($19). The bread is a pretzel bun, fresh and surprisingly tender but still dense enough to soak up the extra sauce without going soggy. It's messy business, this burger, and you'll probably get a black sesame seed caught in your teeth, plus a spot on your T-shirt. It's so good, you won't care. Emily is at 919 Fulton Street (Clinton Hill, Brooklyn); +1 347 844-9588 or pizzalovesemily.com
Tejal Rao is the New York food critic for Bloomberg. Follow her on Twitter at @tejalrao and Instagram at @tejalra, or contact her at trao9@bloomberg.net.
Before it's here, it's on the Bloomberg Terminal.
LEARN MORE