Erdogan Setback Seen Benefiting Turkish Companies Like Koza Gold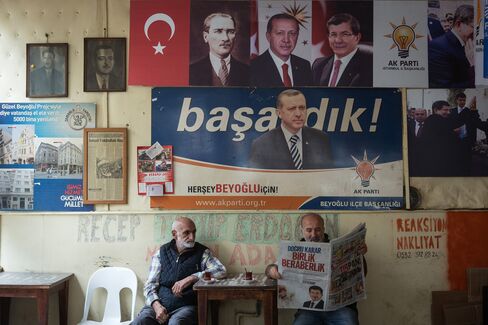 A bad result for allies of Turkish President Recep Tayyip Erdogan at this weekend's elections could be good news for investors in gold miner Koza Altin Isletmeleri AS.
Koza shares were battered the past two years in part by its association with Islamic cleric Fethullah Gulen, whom Erdogan accuses of being behind a "parallel state" in Turkey. While the company's stock has recouped most of those losses, analysts from VTB Capital and Capital Economics Ltd. say some investors are betting the stock could rally further if the AK Party founded by Erdogan is weakened or even forced into a coalition at the parliamentary elections.
Investors are hopeful that political meddling in the economy will subside if centralization of power around Erdogan is checked. Koza said last year that authorities had been withholding permits from its companies, halting production at three mines. The company got off lightly compared with Islamic lender Asya Katilim Bankasi AS, which was seized by the Savings Deposit Insurance Fund, and accused by Erdogan on June 2 of funding the Gulenist movement.
"Some may be potentially betting on AKP/Erdogan losing some strength and that the political discount on Koza could diminish," Akin Tuzun, managing director of VTB Capital in Moscow, said by e-mail on May 27.
While Chairman Akin Ipek said in December that he's not a "financier or supporter of anyone," he described Gulen as his source of "inspiration" in a Wall Street Journal story 11 months earlier.
Koza Corporate Relations Manager Guler Isin said by phone on Friday that the company does not comment on political matters. Offices for the president and the prime minister also declined to comment when contacted by phone on Thursday.
Stock Valuations
Koza Altin's shares have surged 67 percent this year in Istanbul, second only to sister company Ipek Dogal Enerji Kaynaklari AS, which is up 75 percent. That compares with a loss of 4.4 percent for the benchmark Borsa Istanbul 100 Index. Koza retreated 2.8 percent to 26.15 liras on Friday after rising 1.3 percent, while Ipek surged as much as 7.7 percent.
Other targets of Erdogan's ire surged on the last trading day before the vote, with Dogan Sirketler Grubu Holding AS and Turkiye Is Bankasi advancing 6.7 percent and 11 percent respectively. Erdogan adviser Yigit Bulut yesterday complained in a television interview about some transactions of the two companies.
"It's possible that the stocks of companies linked to Gulen have performed well because of expectations about the election," William Jackson, an economist at Capital Economics in London, said by e-mail.
Gold Prices
The Istanbul-based company, whose first-quarter profit missed analyst estimates, has advanced more than any of its global peers, even as gold prices fell this year, data compiled by Bloomberg show. The stock trades at 10.2 times 12-month projected profit, less than half the multiple of Chinese company Zijin Mining Group Co., the world's biggest gold miner.
"There is no financial data that can explain Koza Altin's advance," Alper Akalin, an analyst at Deniz Invest in Istanbul, said by phone. "Some investors may be betting on AKP losing some power, which will clear the way for companies associated with Gulen," a wager Akalin said he disagrees with.
At least three surveys prior to a 10-day blackout on polls signaled the AK Party may not secure enough votes to govern alone if the pro-Kurdish People's Democratic Party passes the 10 percent threshold to win parliamentary seats.
That could usher in a coalition unable to control economic policy, while a super-majority would mean the risk of handing Erdogan even more power.
"There must be hopes that the need to form a coalition might temper the AK Party's and President Erdogan's more authoritarian tendencies," Jackson of Capital Economics said.
Before it's here, it's on the Bloomberg Terminal.
LEARN MORE