Carlsberg Unable to Shed Link to Russia's Shrinking Beer Market
Carlsberg A/S, the world's fourth-largest brewer, is having a hard time convincing investors that its sales and earnings are not entirely tied to the tough business environment in Russia and the volatility of its currency.
The attached chart shows how Carlsberg's share price has traded in tandem with the ruble, and by extension the oil price, since the start of 2015. The association reflects the company's position as Russia's largest brewer, with a 40 percent share of a shrinking market. Yet Carlsberg gets almost four-fifths of global revenue from outside eastern Europe.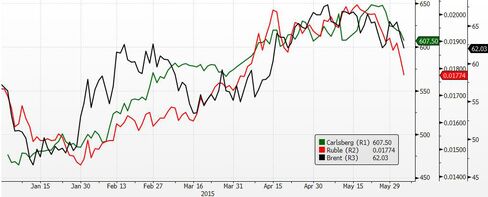 "The correlation between Carlsberg's share price and the ruble shows investors are concerned about the brewer's exposure to the region," said Trevor Stirling, an analyst at Sanford C. Bernstein with a market outperform recommendation on the stock.
Buffeted by tightening regulations and political turmoil, Russia's beer market has contracted more than 30 percent since Carlsberg took control of Baltika Brewery in 2008. The ruble's 43 percent drop against the dollar last year was accompanied by a 20 percent decline in the company's share price, though this year the stock has rallied alongside the currency.
Recent ruble strength is a positive influence on profit, though investors are also responding to restructuring initiatives, according to spokesman Jim Daniell. Carlsberg said last month it cut about 180 office jobs to save money.
The brewer nevertheless remains a hostage to the fortunes of the ruble, and by implication the crude price given Russia's position as the eighth-largest country by oil wealth with 80 billion barrels worth of proven reserves.
Benchmark crude prices rallied 34 percent since reaching a six-year low in January and rose Friday after the Organization of Petroleum Exporting Countries, or OPEC, maintained the current oil output ceiling at 30 million barrels.
Before it's here, it's on the Bloomberg Terminal.
LEARN MORE