American Pharoah Almost Got Repossessed Before Being Born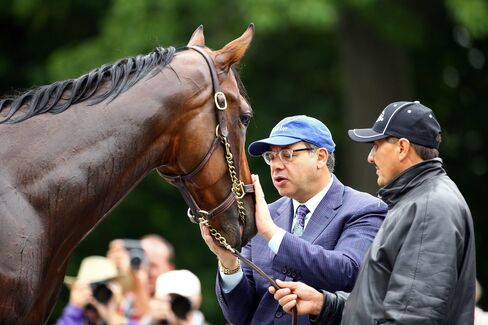 Long before Triple Crown winner American Pharoah was born, he was almost repossessed.
This year's Kentucky Derby, Preakness Stakes and Belmont Stakes winner came from a pair of racehorses whose unborn foals were collateral for a loan that went bad in 2010.
By putting his stables into bankruptcy, owner Ahmed Zayat shielded the thoroughbreds from creditors, giving him the chance to keep the first horse since 1978 to win the premier U.S. horse racing series for three-year-olds.
"Things have been unbelievable since then," Zayat said in an interview.
Before it filed for bankruptcy in 2010, Zayat Stables LLC had run up more than $38 million in debts, mostly to Fifth Third Bank, which accused Zayat of trying to dodge a requirement that he personally repay a loan if his company couldn't.
He also owed a thoroughbred auction house, Keeneland Association Inc., almost $2.4 million for horses, according to bankruptcy court papers.
In the run-up to the stables' February 2010 bankruptcy filing, Zayat traded allegations of unfair business dealings and improper conduct with his creditors. The Chapter 11 case temporarily halted Fifth Third Bank's effort to repossess $37 million worth of horses, including American Pharoah's parents, Pioneerof the Nile and Littleprincessemma.
Borrowed Millions
Zayat, who made his millions selling an Egyptian drinks company to Heineken NV, set up his stables in Hackensack, New Jersey, in 2005, investing $40 million and over time borrowing $34.5 million from Fifth Third.
When the stables defaulted, the bank tried negotiating, but four rounds of talks failed, mostly because Zayat demanded a release from his personal repayment guarantee, Fifth Third said in court papers.
So, the bank sued in federal court in an effort to seize the stables. Zayat countered with the bankruptcy, forcing Fifth Third back to the negotiating table and giving Zayat time to come up with a plan to fully repay the company's debts.
Thoroughbreds used for breeding often make better collateral for stable owners than horses that are still racing, Terry Finley, owner of West Point Thoroughbreds, said in an interview.
Quick Sales
When a bank seizes thoroughbreds from an owner, it will quickly put the horses up for auction, rather than try to breed them or develop them, Finley said.
In bankruptcy papers, Zayat accused Fifth Third of trying to break up the thoroughbred collection through a fire sale.
Ultimately, he and the bank settled the dispute by restructuring the loan. Zayat agreed to sell horses over four years, giving the bank 40 percent of the proceeds. He refinanced a final payment of $14.4 million that was due at the end of December.
The deal allowed Zayat to keep his stables, an unusual outcome in bankruptcy, where most owners are forced out.
Two years later American Pharoah was born.
While one of the horses he sold was Littleprincessemma, Zayat still owns Pioneerof the Nile, who brings in about $60,000 each time he's put out to stud, according to the Blood-Horse stallion register.
Live Foals
Stallions command higher stud fees as their offspring win races, said Darren Fox, director of the stallion breeding season at WinStar Farm in Kentucky. Fees are tied to the number of healthy foals a horse can sire. Fox said Pioneer's fees could "easily" reach $100,000 per live foal if American Pharoah won at Belmont Saturday.
Rights for American Pharoah himself were sold this year to Coolmore Ashford Stud. Zayat has said there's an incentive in the deal if the horse won the Triple Crown and his plan is to race the colt for the rest of the year.
While terms of the Coolmore sale weren't disclosed, industry analyst Bill Oppenheim said in an e-mail that American Pharoah's stud rights will be worth about $30 million with a Triple Crown win.
Zayat Stables now has more than $100 million in assets and less than $10 million in debt, Zayat said.
The case was Zayat Stables LLC 10-10202, U.S. Bankruptcy Court, District of New Jersey (Newark).
Before it's here, it's on the Bloomberg Terminal.
LEARN MORE