Why Bond Market Soap Opera Is Good News to Equity Mutual Funds
There may be a reason for calm equity markets
Everyone's clucking about this recent spate of volatility that's sent 10-year Treasury yields above 2.4 percent this morning, a vertiginous height not seen since...
Err, welp, actually the rate was higher than this as recently as October. And it was higher than this for most of 2014 and about half of 2013. But still! The darn yield is moving pretty fast and furious these days, fulfilling all the prophecies that this would be a more volatile year in markets. Except in equities, where everyone's all like "Dude, where's my vol?"
It's there, dude, you just gotta poke around. However, most of the biggest moves in U.S. equities recently have basically been subplots of the bond-market soap opera. Ten-year Treasury yields reached their low of the year, 1.64 percent, on Jan. 30. Check out the symmetry between two of the more yield-sensitive industry groups since then:


This is, of course, as it should be. Markets 101 tell us that utilities (one of last year's best performing groups with a 29 percent total return) should feel some pain as higher Treasury rates compete with their dividend yields. And insurance stocks should party because those companies park a lot of money in the Treasury market while they wait patiently for customers to crash their cars or set their houses on fire.
So the correlation between yields and utility stocks has been pretty reliably negative for the last two years: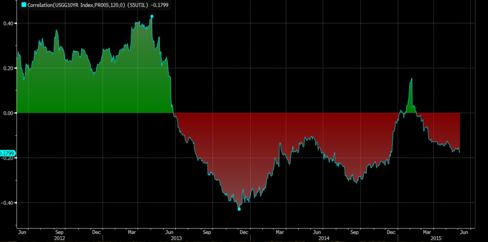 And the correlation between insurers and yields has been positive for even longer: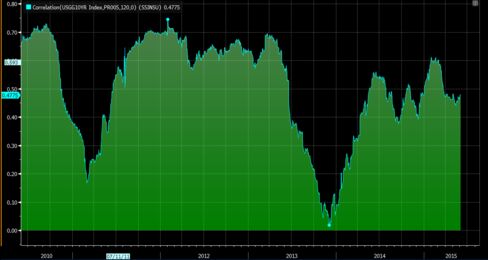 Looking at the tale of the tape between these two industry groups in the S&P 500, it's easy to see how this is more or less a less a wash in the stock market. The 21 insurance companies have a combined market capitalization of $507 billion; the 30 utilities have a combined market cap of $538 billion. Put another way, what either group does on any given day is less important to the overall market than what the $750 billion Apple Inc. does. (It's up 11 percent since Jan. 30, and the S&P 500's up 6 percent.)
Still, you can't fill an entire fund with Apple. (Or maybe you can, but your investors will probably catch on eventually and just buy Apple for themselves.) So this dispersion between utilities and financial stocks (insurance companies plus banks, etc.) appears to be good news from the perspective of many equity mutual funds, especially the 248 large-cap core funds tracked by Goldman Sachs. They've been shunning utilities for awhile now and overweighting financials, perhaps under the theory that Treasury yields had to go up one day, eventually, probably, maybe, potentially?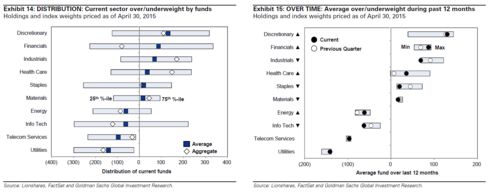 Among the biggest moves in insurers since Jan. 30, American International Group Inc., Lincoln National Corp. and MetLife Inc. are all up more than 15 percent; among utilities, Scana Corp., Wisconsin Energy Corp. and Pinnacle West Capital are down more than 15 percent.
For what it's worth, those three utilities are yielding about 4 percent in dividends on average now. The entire group is is paying out 3.7 percent.
So is it time to reload on utilities?
The answer, of course, depends on where Treasury yields go next. And like any good soap opera, this is one with a lot of surprising plot twists. (Yields are down today, fwiw, and the International Monetary Fund is urging the Federal Reserve to delay its rate increase until the first half of next year.)
So stock investors, give a call to your pal on the bonds desk and ask them where rates are headed. They should be able to tell you EXACTLY what to expect. Ha, just kidding.
Before it's here, it's on the Bloomberg Terminal.
LEARN MORE