Which Bathroom Should a Transgender Employee Use? The Federal Government Chimes In
The Department of Labor has new guidelines on bathroom access for transgender employees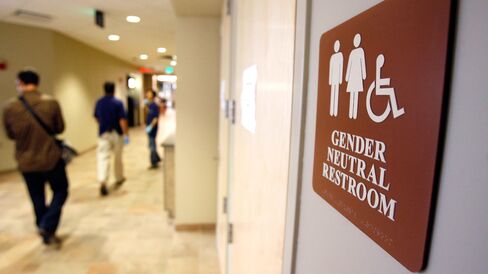 For transgender people, a day-to-day activity as mundane as going to the bathroom at work can be complicated, confusing, or so unwelcoming that they just don't go at all. Right now, the U.S. doesn't have any specific federal requirements for transgender-compliant restroom policies in the workplace. But this week, the Department of Labor's Occupational Safety and Health Administration (OSHA) issued best practices that recommend transgender employees have access to the restrooms that correspond to their gender identity. "A person who identifies as a man should be permitted to use men's restrooms, and a person who identifies as a woman should be permitted to use women's restrooms," the report reads. "The employee should determine the most appropriate and safest option for him- or herself."
Bathroom access falls under OSHA's purview because avoidance can lead to serious health issues, such as urinary tract infections and bowel and bladder problems. But research suggests that transgender employees often forgo using public restrooms. One small study from the Williams Institute at UCLA found that 70 percent of respondents had experienced denial of access to facilities, verbal harassment, and physical assault when using public bathrooms, with 54 percent reporting physical complications from bathroom avoidance. "It's incredibly important that employers understand the real health consequences that happen to transgender workers when they are denied access to bathrooms," said Lisa Mottet, the deputy executive director at the National Center for Transgender Equality. The Williams Institute estimates there are 700,000 transgender adults in the U.S.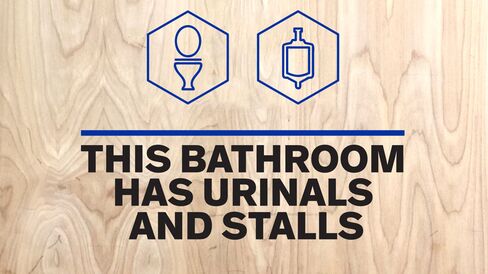 The best possible setup for all employees of all identities would be single occupancy, gender neutral bathrooms with appropriate signage, says OSHA. Some jurisdictions, such as the District of Columbia, already require that any single-occupant restrooms in a public space be gender neutral. But for workplaces that have male or female-specific, single-person bathrooms, updating to gender-neutral rooms is as simple and cheap as taking down a male or female icon. For offices that have multiple stalls lined up in a room, the Department of Labor's new recommendations advise the creation of multiple occupancy, gender-neutral bathrooms. These can be retrofitted for more privacy: For $30, Home Depot sells covers that latch onto a stall door to eliminate wide gaps between walls, for example. The Human Rights Campaign also recommends floor-to-ceiling doors and walls for bathroom stalls.
For financial and architectural reasons, not all workplaces will be able to provide multiple-occupancy, gender-neutral bathrooms. "There isn't necessarily going to be a one-size-fits-all solution," said Robin Maril, senior legislative counsel at the Human Rights Campaign. "Because of that, it's important employers be responsive and empower employees to use the facilities that correspond to their gender identity."
Employers can do that by having clear policies discussed during orientation sessions and reinforced throughout the office with signs or frank language, so that even visitors understand the system."We have a general 'this is a restroom situation' discussion," added Maril. "I don't think it's awkward."
Before it's here, it's on the Bloomberg Terminal.
LEARN MORE