Tips to Avoid Scandal Sent to Joking South Africa Minister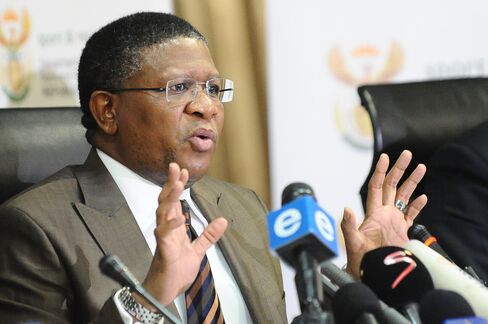 South Africa's Sports Minister made light of his country's role at the heart of soccer's corruption storm by asking his 211,000 Twitter followers for tips to avoid being accused of bribery.
"I promise honorable tweeps am carrying no briefcase," Fikile Mbalula tweeted on Wednesday evening before boarding a flight to London to attend the start of South Africa's bid to host the 2023 Rugby World Cup. "Please send more tips to avoid being accused of a bribe."
Suggestions from his followers, many of which were re-tweeted by the former youth leader of South Africa's ruling African National Congress, included the use of duffel bags instead of briefcases and avoiding having a photo taken with "anyone or anything" -- lest they be spies for the U.S. Federal Bureau of Investigation.
Mbalula, 44, on Wednesday defended South Africa from accusations by U.S. authorities that its representatives had paid bribes to FIFA executives to secure the right to host the 2010 soccer World Cup. The allegations are part of a wider U.S. investigation into bribery and corruption at the sport's governing body.
He had already developed a reputation for not pulling any punches. He called South Africa's soccer team a "bunch of losers" last year after it failed to qualify for the knock-out stages of the African Cup of Nations tournament.
Bribery 'Ghost'
Mbalula told reporters a $10 million payment to the Caribbean Football Union was a legitimate contribution to develop soccer in the Caribbean and not a bribe to indicted FIFA official Jack Warner. He dismissed the U.S. investigation, which involves some of FIFA's most senior executives, saying: "Bribes is like a ghost, it's untouchable, you never find it."
While FIFA President Sepp Blatter was announcing on Tuesday that he would resign, Mbalula was exchanging blows on Twitter with radio DJ Gareth Cliff. While many sided with Mbalula and responded with a quip, Cliff tweeted: "Has anyone found @MbalulaFikile's credibility yet?"
Once Mbalula got onto the subject of Blatter's resignation, he said he was available to replace him, before holding an impromptu Twitter poll. When he won, he tweeted to FIFA's official account: "The tweeple have spoken."
(Earlier versions of this story corrected the day of Blatter's resignation announcement and the day of the minister's press conference.)
Before it's here, it's on the Bloomberg Terminal.
LEARN MORE