The Cost of Oil's Slump: Saudi Economy Shows Slowdown Signs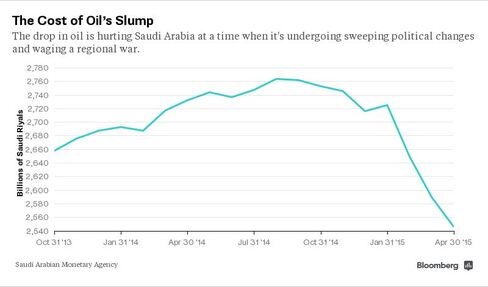 Saudi Arabia's oil-fueled economic boom is showing signs of losing steam.
Official data released last week showed demand for loans growing at the slowest pace since 2011 and the kingdom's currency reserves plunging for a third month in a row. An index reflecting the performance of the non-oil private economy fell to the lowest level in a year in May.
The numbers signal that the drop in oil prices is starting to hurt the biggest Arab economy at a time when the kingdom is undergoing sweeping political changes at home and waging a regional war. The government is moving ahead with spending plans that will widen the budget deficit to 20 percent of economic output, the International Monetary Fund says, fueling speculation it will tap debt markets to plug the gap.
While overall growth levels are likely to remain stable, the "quality of that growth will be more reliant on government consumption and investments," said Raza Agha, chief Middle East and Africa economist at VTB Capital Plc in London. "The private sector will be hit more by negative oil-price sentiment, and perhaps even regional dynamics."
Credit Growth
Bank credit to private businesses and consumers grew 9.5 percent in April, the slowest pace in four years. ATM withdrawals, which reflect consumer spending, dropped, indicating that the impact of a two-month bonus to public-sector employees ordered earlier this year has faded.
Saudi Arabia is leading a bombing campaign against Yemeni Shiite rebels it says are backed by rival Iran. At home, King Salman has made sweeping leadership changes since he took power in January, shuffling his cabinet twice and naming his son as second-in-line to the throne. The government is also allowing foreigners direct access to the stock market for the first time starting this month.
The "political changes" have led to uncertainty over the government's investment program, according to Simon Kitchen, a strategist at Cairo-based investment bank EFG-Hermes.
Gross domestic product is set to expand 2.5 percent this year, the slowest pace since 2009, according to economists' estimates on Bloomberg. Non-oil GDP growth, which averaged 7 percent between 2000 and 2011, will slow to 4.5 percent in 2015, the IMF predicts.
Stocks Optimism
The benchmark Tadawul All Share Index fell 0.1 percent at the close in Riyadh, trimming its gain this year to 16 percent.
"There has been a lot of optimism surrounding the stock market opening," said Jason Tuvey, Middle East economist at Capital Economics in London. "But valuations still look stretched, oil prices are likely to remain low and economic growth is set to be much weaker in the coming years than in the previous decade."
Still, the backdrop of the decline in oil prices will likely make prices relative to corporate earnings cheaper, Kitchen said. Investors also "may see some positive announcements -– say on housing, or deficit financing –- in the second half of the year. This could change the growth outlook," he said by e-mail.
Bond Market
For now, the government is financing its budget shortfall by drawing down its deposits at the central bank, accelerating the decline in currency reserves. Net foreign assets dropped $11.5 billion in April, taking their three-month plunge to more than $45 billion -- about 7 percent of the total.
Economists and the IMF expect authorities to plug part of the deficit through the bond market.
"Saudi Arabia has more than enough space to issue debt," Agha said.
Bond sales "will likely be a major source of financing if lower oil prices sustain," he said by e-mail. "This has been the case in the past: by 1999, Saudi government debt was over 100 percent of GDP."
The ratio dropped to less than 2 percent last year as the government used revenue from high oil prices to reduce its debt.
Tim Callen, the IMF Saudi mission chief, said Saudi banks have plenty of funds "so I would imagine there's a good demand for government debt in the local markets."
Still, the Washington-based fund says Saudi Arabia will need "a sizable fiscal policy consolidation" after years of government spending to support economic growth.
"The government has invested in infrastructure, education and other projects but over the coming years that pace of expenditure growth is going to have to slow as this adjustment takes place," Callen said in an interview.
Before it's here, it's on the Bloomberg Terminal.
LEARN MORE