The Bond Market Doesn't Buy This Junk Car Dealer's Recovery Plan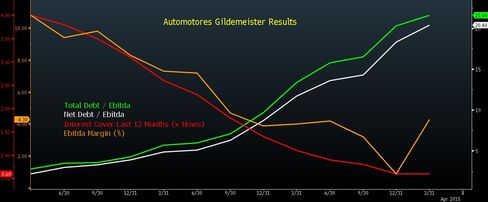 After bondholders spurned Automotores Gildemeister SA's debt-relief proposal in April, Chief Financial Officer Eduardo Moyano said the car dealership was "sound" and poised to benefit from a recovery.
On Monday, the Santiago-based company said leverage rose to a record, sales plunged and that it had less than $55 million in cash. And while that's enough to cover its $10.1 million interest payment next month, traders remain pessimistic about the outlook for Gildemeister. Its $400 million of notes due 2021 sell for less than 46 cents on the dollar.
Investor are skeptical the company, whose Hyundai Motor Co. dealerships have been hurt by the Chilean peso's tumble and the country's economic slump, can pay debt over the long term unless it unloads more assets or renegotiates its debt. In April, Fitch Ratings cut Gildemeister's credit grade to C, a level that means default is imminent or inevitable.
"I can't see much future to it," Diego Torres, a money manager at Munita, Cruzat & Claro, said from Santiago. "The only thing they can do is improve the terms" of the bond exchange.
Gildemeister declined to comment on its first-quarter results or whether it plans to propose a new exchange, according to an external press relations manager.
In its earnings statement Tuesday, the company said it has enough resources to make all its debt payments for the next 12 months.
'Credibility Problem'
Gildemeister also said on a conference call Tuesday that it isn't currently seeking to restructure debt, according to Mariela Anguiano, an analyst at BCP Securities LLC. She said in a note to clients Wednesday the company instead plans to scale back its heavy machinery and rental businesses and cut jobs.
"Although the company stated it feels comfortable servicing its debt and being able to properly operate, this company has a credibility problem," Anguiano said by e-mail from Greenwich Connecticut. "Overall, it's not looking great for Gildemeister. Their recent attempt at exchanging their bonds failed, showing how little access they have to the capital markets."
Gildemeister withdrew its debt-exchange offer on April 17 after bondholders balked at a deal that would have saddled them with losses of as much as 50 percent.
"It would have meant bondholders accepting a lot of risk," Felipe Lubiano, an analyst at Credicorp Capital, said by telephone from Santiago.
Gildemeister, which is also struggling after going deeper into debt to expand and pay dividends to its owners, said Tuesday its net debt soared to 20 times earnings before interest, taxes, depreciation and amortization. Its cash on hand tumbled 40 percent from $90.4 million at the end of 2014.
"That's an uncomfortable liquidity situation to be in," Soummo Mukherjee, an analyst at Itau BBA Securities, said by phone from Santiago. "The rating reflects a company with a very high default probability. That's a true reflection of Gildemeister's operations at this stage."
Before it's here, it's on the Bloomberg Terminal.
LEARN MORE