Tax-Free Stocks Can't Halt Outflows on Egypt Dollar Dearth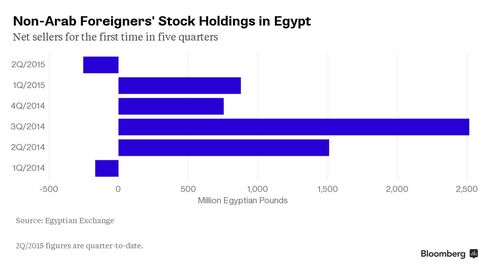 Not even tax-free stocks can stop foreigners from dumping Egyptian equities.
Non-Arab foreign investors are poised to become net sellers in North Africa's biggest bourse for the first time in five quarters, even after the government this month postponed a tax on capital gains to make shares more attractive. A dollar shortage that started after the 2011 uprising, which limits the ability to repatriate funds, is weighing on market sentiment, said Franklin Templeton Investments ME.
International investors "are paying close attention to repatriation delays which are hindering additional inflows into the country in spite of relatively attractive valuations," Salah Shamma, who helps manage the $220 million Franklin MENA Fund in Dubai, said by e-mail on Monday. Egyptian shares carry the third-heaviest country weight in the fund at 16 percent.
Officials are struggling to end a dollar shortage that spurred a 24 percent slide in the Egyptian pound since the beginning of 2011, the biggest depreciation in the Middle East after Iran's rial. To cope, the central bank set up a repatriation facility allowing investors who entered the market in March 2013 or later to pay a premium to the official exchange rate to transfer funds out of Egypt.
Foreign investors who entered the market before March 2013 have to wait until the central bank makes foreign currency available to them to repatriate their funds.
Foreign Holdings
The benchmark EGX 30 Index of equities retreated 1.4 percent at the close in Cairo. Shares in Egypt are trading at 12.4 times projected earnings for 2015, compared with 13.8 times and 16.7 times for indexes in Dubai and Saudi Arabia, respectively. Still, the backlog of investors waiting to repatriate their cash has increased, according to EFG-Hermes Holding SAE.
Non-Arab foreign investors reduced their holdings by about 270 million Egyptian pounds ($35 million) since the end of March, data compiled by Bloomberg show. Since the start of the uprising that ousted Hosni Mubarak in 2011, non-Arab foreigners' holdings of Egyptian equities halved to 12 percent of the $71 billion market, according to Egyptian Exchange data.
The government on May 18 postponed a 10 percent tax on income from stocks by two years to make the market more competitive. President Abdel-Fattah El-Sisi signed the tax into law in July among measures taken to cut one of the Middle East's highest budget deficits.
MSCI
With limits on the repatriation of funds, Egypt's emerging-markets status with MSCI Inc. could be at risk, EFG-Hermes said in a note on June 2. The index provider on May 13 said it will drop Telecom Egypt Co. from the country's four-member gauge, fueling concern of a downgrade. The EGX 30 that week posted the biggest drop since December.
Money "repatriation remains a major overhang, and the Egyptian government needs to prioritize it," Omar Darwish, a sales trader at Renaissance Capital in Dubai, said by phone. "The decision to postpone the tax is a good sign, but it's not enough to push the market forward and revive foreign inflows."
Before it's here, it's on the Bloomberg Terminal.
LEARN MORE