South African Budget Eases Credit Rating Risk, Kganyago Says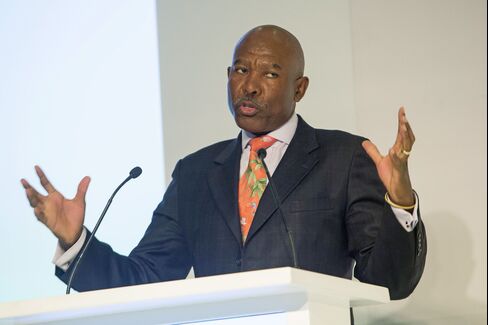 South Africa credit outlook is better than a year ago after the National Treasury addressed concerns about the budget raised by rating companies, Reserve Bank Governor Lesetja Kganyago said.
"The Treasury had outdone itself in terms of the fiscal stance," Kganyago said in an interview at the World Economic Forum in Cape Town on Thursday. Rating companies "raised issues around the current account deficit," he said. "The current account deficit has come down. We are financing it comfortably."
Fitch Ratings Ltd. lowered the outlook on the nation's debt to negative last year, signaling a possible credit downgrade, and is scheduled to review the assessment on Friday. A cut would put the rating in line with Standard & Poor's at one level above junk.
Sustained rand weakness will have an impact on second-round price effects and inflation expectations close to the top of the central bank's 3 percent to 6 percent target range are of concern to the monetary policy committee, Kganyago said.
The economy's growth potential has eroded after several years of weak expansion, making the current growth forecast of about 2 percent a potential risk to inflation, he said.
Growth is "close to potential, which could suggest that inflation pressures could build in," Kganyago said. "In which case you are faced with the policy dilemma of low growth and rising inflationary pressures and the monetary authorities will have to make the hard decisions."
Dollar Strength
The rand fell to its lowest level in almost three months against the dollar and traded 0.2 percent weaker at 12.3330 at 4:40 p.m. in Johannesburg on Thursday. It has declined 6.2 percent against the U.S. currency this year.
The rand's current weakness is being fueled by the strength of the dollar, Kganyago said.
Rising energy and food costs and a weaker rand are putting pressure on prices, giving policy makers room to raise the benchmark rate from 5.75 percent for the first time since July. Inflation accelerated to 4.5 percent in April and the central bank forecasts it will peak at 6.8 percent in the first quarter of next year, exceeding the target band.
Policy makers' reference to moderate rate increases refers to the size and pace of adjustments and there is no reason why the MPC has to stick to increments of 25 basis points or 50 basis points, Kganyago said. Decisions on interest rates will be data-dependent and the central bank doesn't want to surprise the market, he said in an earlier interview with Bloomberg TV's Anna Edwards.
MPC Deliberations
"I don't think that we will see interest rate adjustments like we had in 1998 and 2001, where you had interest rates move by 100 basis points at every meeting and those kinds of things, unless you are completely out of the target," he said. "It's for every sitting of the MPC to deliberate and decide what would be an appropriate quantum."
Forward rate agreements, used to speculate on borrowing costs, are pricing in 64 basis points of rate increases in 2015, according to data compiled by Bloomberg.
Finance Minister Nhlanhla Nene said in a separate interview on Thursday that while a weaker rand had helped improve the competitiveness of exports, it's adding to import costs.
"A weaker rand at the moment is good for our exports and that is precisely what we've benefited from," he said. "At the same time its not good for our imports, in particular oil. But at the moment we still have the advantage of a low price of Brent crude."
Before it's here, it's on the Bloomberg Terminal.
LEARN MORE