Billionaire Saban Assails Orange Plan to Pull Brand From Israel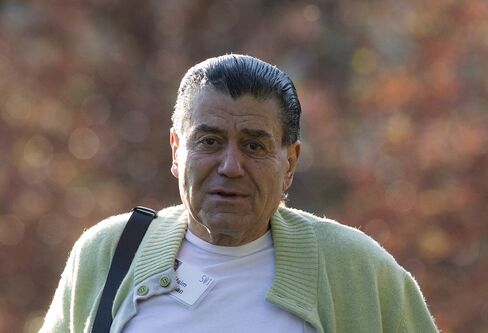 U.S. billionaire Haim Saban criticized France's Orange SA for saying it will cut ties with his Partner Communications Co. holding for servicing Jewish settlements in the West Bank.
Orange SA Chief Executive Stephane Richard told reporters in Cairo on Wednesday that France's largest telecommunications carrier would sever relations with Israel's Partner "tomorrow" if he wasn't concerned about potential legal penalties. Mobile provider Partner says it renewed its contract in March to use the Orange brand for 10 more years.
"I am proud to be the controlling shareholder in Partner, which is an Israeli company that leases the Orange brand," the Israeli-born Saban, chairman and chief executive officer of Saban Capital Group Inc., said in a text message. "Threats will not deter me, I will continue to operate in Israel and lead the battle for Israel in the world."
The dust-up reflects increasing pressure in Europe and elsewhere to sanction Israel for settlement policies in the West Bank that most of the world views as violating international law and detrimental to peacemaking with the Palestinians. Israeli officials also condemned Richard's comments, with lawmaker Yair Lapid, a former finance minister, calling them "hypocrisy of the highest order."
Orange issued a statement in France on Thursday affirming it seeks to eventually end brand licensing with Partner.
Israeli Prime Minister Benjamin Netanyahu has identified the trend to boycott, divest and sanction Israel, popularly called the BDS movement, as a major threat.
The BDS movement in France has targeted Orange for its ties with Partner, staging a protest at the company's annual meeting in Paris on May 27, and organizing a boycott of its Egyptian subsidy, Mobinil. Its licensing agreement with Partner resulted from the acquisition of the Orange telecom brand once owned by Hong Kong's Hutchinson Whampoa Ltd., an original investor in Partner.
Only Link
"Partner is an Israeli company owned by Saban Capital Group and the public and is not owned by Orange," Partner said in an e-mailed statement. "Partner has held the Orange brand since 1998, and the only tie between us and Orange is the brand."
Saban, a strong supporter of Israel with close political and personal ties to Bill and Hillary Clinton, acquired shares in Partner in 2013. Saban Capital now holds a 30.48 percent stake in the company, according to data compiled by Bloomberg.
Israeli Ambassador to France Yossi Gal spoke with the foreign and finance ministries in Paris to urge them to condemn Richard's comments, Israel's Foreign Ministry said in a text message.
"This is hypocrisy of the highest order, I don't remember him having a problem making money here and profiting from Israeli citizens," Lapid said of Richard. "I call upon the French government, which owns a substantial amount of shares in Orange, to distance itself from the irresponsible statements of the CEO."
Employees at Partner's headquarters in Rosh Ha'ayin outside Tel Aviv staged an impromptu demonstration, covering the Orange logo on display in the building with Israeli flags. Artificial grass importer Pashut Yarok said in an e-mailed statement that it is canceling in protest the 34 phone lines it leases from Partner.
Partner's management is weighing the option of suing Orange for potential damages resulting from Richard's statement, the Globes business daily said, citing company officials. Globes estimates Partner pays Orange about 15 million shekels ($3.9 million) a year to use its brand.
"From a business point of view the impact on Partner is expected to be close to zero," said Gilad Alper, senior analyst at Excellence Nessuah Brokerage Ltd. "On a more global level, the sentiment against Israel has been negative for many years."
Alper, speaking by phone, added that "irrespective of the sentiment coming from Europe, it makes sense for Israel to shift as much of its international trade from Europe to the Far East, where the growth is and where sentiment toward Israel is generally positive."
Partner shares rose 0.1 percent at 4:08 p.m. in Tel Aviv.
Before it's here, it's on the Bloomberg Terminal.
LEARN MORE