Russia's $500 Billion Buffer Plan Adds to Risk for Ruble Buyers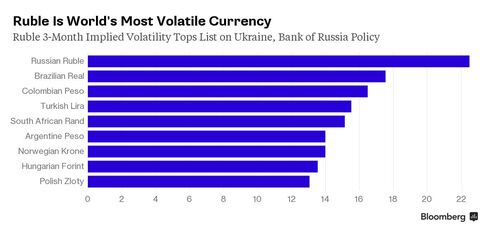 As if investing in Russian markets didn't carry enough risks, the central bank just added another one: a $140 billion ruble-sale plan.
Bank of Russia Governor Elvira Nabiullina said Thursday she plans to buy foreign currencies to boost reserves to $500 billion in coming years. Purchases of about $2.9 billion helped turn this year's best-performing currency into the worst in the past month. The ruble, which is the most volatile currency globally, weakened to more than 56 against the dollar for the first time in two months on Thursday as bonds tumbled.
"We still hope the central bank will stop buying currency as the exchange rate moves to 55-57, or at least diminish the interventions considerably, otherwise this is very negative," Oleg Kouzmin, a former central-bank adviser who's now an economist at Renaissance Capital in Moscow, said by e-mail Thursday. "Now, in addition to oil and geopolitics, we have to consider the Bank of Russia's policy of reserve accumulation as a risk factor."
Russia is building financial buffers as sanctions over its role in Ukraine and weaker oil prices push the economy into recession. While the start of dollar purchases on May 13 coincided with official statements that the ruble's advance had gone too far, the currency's weakening spurred by flare-ups in Ukraine this week risks stoking inflation.
No Timetable
Russia's start of foreign-currency purchases last month prompted criticism by banks including PAO Rosbank and ING Groep NV as going against the central bank's so-called free-float policy, in which market conditions set the ruble's exchange rate.
The authority isn't abandoning the program, though "more frequent interventions on the currency market" are possible during the "initial phase" of the regime adopted in November, Nabiullina said on Thursday.
The central bank has no timetable for how fast it wants to reach the $500 billion reserve target, according to Nabiullina. Reserves tumbled 24 percent last year as Russia took steps to slow the currency's decline, the biggest worldwide at 46 percent, in the face of declining oil prices and U.S. and European Union sanctions imposed after Russia's annexation of Crimea in March 2014.
Rebuilding Stockpile
The stockpile was $356.5 billion at the end of last week, up from an eight-year low of $350.5 in April, central bank data sow. The Bank of Russia has purchased about $2.9 billion since the new reserve-accumulation program -- which involves buying between $100 million and $200 million daily -- started in mid-May.
Nabiullina's comment on reserves was "somewhat unexpected," according to Ivan Tchakarov, an economist at Citigroup Inc. in Moscow and the second-most accurate ruble forecaster in a Bloomberg survey of the past four quarters.
"I don't necessarily think this is a goal set in stone, but rather a desired or optimal level they would like to achieve eventually in order to have a nice buffer," Tchakarov said by e-mail on Thursday. "Depreciation towards 60 will make the Bank of Russia revisit their buying policy."
The Bank of Russia doesn't rule out taking a pause in daily foreign-currency purchases, RIA Novosti reported yesterday, citing First Deputy Bank of Russia Governor Dmitry Tulin.
Ukraine Conflict
The currency weakened 0.3 percent to 56.628 at 6:07 p.m. in Moscow on Friday, after reaching 56.6750 yesterday. Government bonds fell for a third day, pushing five-year yields up 18 basis points to the highest since April. The ruble's three-month implied volatility, which reflects expectations for currency swings, was 24 percent, compared with 18 percent for Brazil, the second-highest worldwide.
Tensions eased in Ukraine's easternmost regions on Thursday after a pickup in fighting the previous day resulted in the deadliest period in three months. Flare-ups risk endangering a cease-fire sealed in Belarus in February, which has curbed deaths in the more-than-yearlong conflict and eased concern over more sanctions.
"Escalation of tension in eastern Ukraine where the fragile cease-fire is holding on a shoe string" may force Nabiullina to scale back foreign-currency purchases as the exchange rate approaches 60 per dollar, according to Piotr Matys, a London-based foreign-exchange strategist at Rabobank, ranked among the five most accurate ruble forecasters. "The key word is 'flexibility' given that market conditions can change rapidly."
Before it's here, it's on the Bloomberg Terminal.
LEARN MORE