Rookie Coaches, Business Background Bring NBA Owners to Finals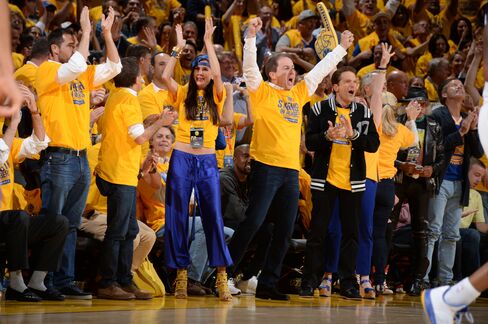 Business experience gave Joe Lacob and Dan Gilbert the confidence to hire unproven rookie coaches for their National Basketball Association teams. The risks paid off, as the Golden State Warriors and Cleveland Cavaliers start the NBA Finals tonight.
Warriors owner Lacob plucked Steve Kerr from television. Gilbert went to Israel to lure David Blatt to the Cavaliers. Neither had coached a single NBA game before this season.
While their predecessors had coaches who often had decades-long NBA resumes -- such as Don Nelson by the Warriors and Lenny Wilkens by the Cavaliers, the top two coaches in career victories -- the new owners looked outside traditional channels.
"I think that people that come from entrepreneurial backgrounds tend to be more risk-takers in everything they do," said Gilbert, who founded Quicken Loans Inc. and is 355th on the Bloomberg Billionaires Index with a net worth of $4.6 billion. "If you take a calculated risk, what's the worst thing that can happen? You learn something and move on from it."
Lacob, who estimates that he started 70 companies as a partner at venture capital firm Kleiner Perkins Caufield & Byers, said in an interview before the Warriors defeated the Houston Rockets in the Western Conference championship series, that 27 years of building and turning around companies help him understand how to assemble a winning management team.
"I'm a risk-taker, no question," he said. "Generally I err toward young management, people with a tremendous amount of aggressiveness by nature."
Record Price
Lacob and Peter Guber bought the Warriors in 2010 for a then NBA-record $450 million from Chris Cohan, who founded a cable television outlet. Gilbert purchased the Cavs in 2005 for $375 million from Gordon and George Gund, scions of a banking family.
Similar NBA ownership transitions are taking place in Milwaukee, Atlanta and Los Angeles.
Former U.S. Sen. Herb Kohl, whose family owned Kohl's Corp. department stores, sold the Bucks last year to Avenue Capital Management's Marc Lasry and Fortress Investment Group LLC co-founder Wesley Edens for about $550 million. Bruce Levenson, who founded business information company United Communications Group, sold the Hawks this year for $730 million to a group led by Ares Management LP co-founder Tony Ressler. Levenson sold the team after the disclosure of a 2012 e-mail he wrote that he called "offensive," "inappropriate" and racially insensitive.
And Steve Ballmer, the former chief executive officer of Microsoft Corp., bought the Clippers last year for $2 billion from real estate developer Donald Sterling.
Bigger Investment
Lacob is 59, Gilbert is 53. Both rely on tools such as metrics and social media in running their teams. Gilbert said in a phone interview that background, not age, is what often separates the new breed of NBA owners from previous generations.
Many of their predecessors bought teams decades ago for a few million dollars and saw their investments skyrocket. Newer owners built their own businesses before paying hundreds of millions of dollars for an NBA club, using a background in technology or startup development to build their teams.
Leaning on his business philosophy that a company needs to change CEOs as it goes from startup to growth stage to mature, Lacob fired popular coach Mark Jackson last summer and replaced him with Kerr, who played in the NBA from 1988-2003.
"What we are now, what we were last summer, is a team that had had some success, and the issue was to go from good to great," Lacob said.
All the Tools
Sal Galatioto, founder of New York-based advisory firm Galatioto Sports Partners that represented Cohan in his sale of the Warriors, said Lacob made an unpopular move that was best for the franchise.
"He got the best people, he used analytics, he used all the tools," Galatioto said. "In a very short period of time he's turned this into one of the best franchises in the NBA. It took five years, but he built this team into a leading brand again."
Dealing with the ups and downs of starting or turning around a company has helped Lacob and Gilbert -- who also founded private equity group Rockbridge Growth Equity LLC and Detroit Venture Partners, a venture capital firm -- deal with the inevitable lows that come with team ownership.
Lacob was lustily booed by fans on a March 2012 night honoring former star Chris Mullin. The owner had just traded team scoring leader Monta Ellis to Milwaukee for injured center Andrew Bogut -- who now anchors the Warriors' best-in-the-NBA defense.
Thick Skin
"It was personally tough, at least for one night, but to be honest, I didn't come into this thinking it was all going to be easy," Lacob said. "You have to have a thick skin if you're going to own a sports team, and I just keep telling myself that."
Gilbert's most public low point came when LeBron James left the Cavaliers as a free agent in 2010, prompting Gilbert to send an open letter to fans accusing James of a "cowardly betrayal" -- comments that earned the owner a $100,000 NBA fine.
Four years later, James returned to Cleveland after Gilbert apologized. The owner said his business background helped him resolve any lingering enmity with the four-time Most Valuable Player.
"Somebody's quit under bad circumstances or been fired, and a couple of years later you're back together," Gilbert said. "You can't hold grudges too long on things, because it's just not in anybody's best interest."
Before it's here, it's on the Bloomberg Terminal.
LEARN MORE