Modi Close to Ending One of the World's Biggest Border Spats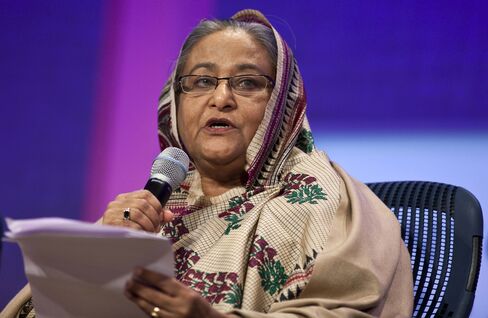 While India and Bangladesh share one of the world's longest land borders, crossing it isn't easy.
Cargo trucks drive hundreds of miles through a chokepoint known as the Chicken's Neck to circumvent Bangladesh and reach India's isolated northeast states. Shipping containers can make detours as far as Singapore, adding weeks to delivery times, and smaller boats are barred from crossing shared waterways.
Indian Prime Minister Narendra Modi, who visits Bangladesh on Saturday, is close to tearing down those barriers. Ending a border dispute that pre-dates Bangladesh's founding in 1971 would help bilateral trade surge and counter China's growing influence in India's eastern neighbor.
"It's a transformative moment," said Alyssa Ayres, a former U.S. State Department official now at the Council on Foreign Relations. "Having a border that is no longer contested on the eastern front relieves India of having one whole array of problems. It'll be great for both economies."
The 4,100-kilometer (2,550 mile) continuous land border, the world's fifth longest, is strewn with islets of territory completely encircled by the other nation, sometimes several times over. The estimated 200,000 people residing in those can cross two international boundaries just to reach a school or hospital -- all while trying to avoid armed border guards.
Modi has sought to end that historical anomaly. A bill that would allow the countries to swap pockets of land passed India's upper house of parliament last month, and now needs sign-off from the lower house controlled by Modi's party. Bangladesh Prime Minister Sheikh Hasina's ruling party, which faces no parliamentary opposition, backs the deal.
Unlocking Rivers
During Modi's two-day trip, the nations will also sign a coastal shipping deal to reduce sea transit times and costs, according to Bangladesh Cabinet Secretary M. Musharraf Hossain Bhuiyan. They'll also unlock inland rivers that crisscross the countries, said Sarveen Narula, director of liner and passenger services at the state-run Shipping Corporation of India Ltd.
"With this agreement, a lot of those trucks would get off the road," Narula said, adding that it would pave the way for more agreements. "It could be akin to what you have between the U.S. and Canada, where you can navigate freely."
The Confederation of Indian Industry estimates that the moves may boost formal two-way trade by almost half to $10 billion by 2018. While the data fail to capture an extensive amount of informal commerce, the official trade now is one way: Bangladesh imports (pulses, rice and cotton) about 13 times more from India than it exports (mostly garments).
Countering China
While India already grants duty-free access to Bangladeshi goods, cumbersome border inspections and financial restrictions have limited trade, said Jayshree Sengupta, a senior fellow at the New Delhi-based Observer Research Foundation. Only four of Bangladesh's 42 customs outposts on the Indian border can clear all imported goods, she said.
One reason pushing Modi toward improved ties is China, Bangladesh's top formal trade partner and biggest military supplier. Hasina in 2010 called China the "most dependable and consistent friend of Bangladesh."
Beijing-based China Harbour Engineering Co. is building a container terminal at Chittagong port, which facilitates more than 90 percent of Bangladesh's imports and exports. Hasina has elicited China's support for other projects, including a tunnel that would connect Bangladesh's main transport artery to a proposed Southeast Asian mega-highway.
Jai Kumar Verma, a former director in India's Cabinet Secretariat, said Modi's visit to Bangladesh would help stabilize a relationship he called "a roller coaster."
"India is concerned about the rising interest of China," he said. "Bangladesh is strategically located, and it can be a gateway to trade to Southeast Asia."
Before it's here, it's on the Bloomberg Terminal.
LEARN MORE