MSG Signs Marketing Partnership With Fantasy Site DraftKings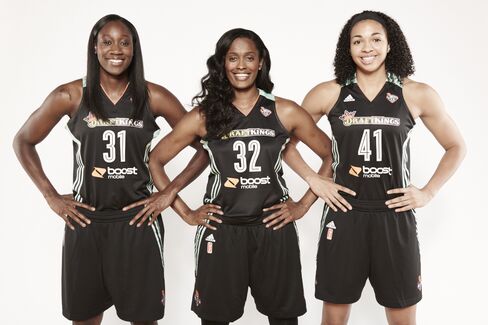 DraftKings Inc. signed a multiyear marketing agreement with Madison Square Garden Co., displacing rival FanDuel Inc. in a contract that gives the No. 2 daily fantasy sports company its first sponsorship that includes multiple teams and a venue.
As part of the contract, financial terms of which weren't disclosed, DraftKings will have a designated space inside the arena and have its logo on game uniforms and warmup shirts for the New York Liberty of the Women's NBA.
DraftKings becomes the exclusive official daily fantasy sports partner of MSG's sports teams, which include basketball's Knicks and hockey's Rangers, as well as the namesake arena in midtown Manhattan. DraftKings had a deal with the Rangers, while main competitor FanDuel had been a Knicks partner this past season.
"Madison Square Garden is the most famous sports venue in the world. Everything happens there," DraftKings Chief Executive Officer Jason Robins said. "To have access to that in exclusive fashion is a meaningful differentiator from our competition."
A number of companies, including FanDuel, were interested in the offering, said Ron Skotarczak, MSG's executive vice president of marketing partnerships.
"We really wanted to get deeper with a few partners rather than spreading ourselves wide across multiple partners," Skotarczak said. "Many of the others, who were great to work with, they cared about maybe one team or two of the teams, and didn't embrace the concept of being fully exclusive with the sports teams and arena as well."
Fantasy Lounge
As part of the agreement, the fantasy sports company becomes the title partner of what will be called the DraftKings Fantasy Lounge inside MSG, where fans will be able to play fantasy sports games.
"It's a big deal," Robins said, noting that it's the first step toward bringing the game, fantasy and the in-arena experience into one. "The goal is to be as tightly integrated with the sporting experience as possible."
A 2014 study from Eilers Research LLC said entry fees for one-day fantasy games are expected to reach $14.4 billion by 2020, up from $245,000 two years ago.
The agreement with MSG is the latest in the battle between DraftKings and FanDuel, which counts the National Basketball Association among its investors. NBA Commissioner Adam Silver supports legalized betting on professional sports.
Market Share
FanDuel controls 63 percent of the market and DraftKings 33 percent, Eilers estimated last October, using reported revenue. With operators generally taking 10 percent of entry fees as revenue, FanDuel is expected to reach more than $700 million in annual revenue and DraftKings more than $500 million by 2020, according to the study.
DraftKings says it is closing the market share gap since the Eilers numbers were published last year, by adding the PGA Tour, Nascar and mixed-martial arts to its offerings, in addition to several league and team partnerships. DraftKings is set to award more than $1 billion in prizes during the calendar year.
In addition to the NBA, New York-based FanDuel's partners include Comcast Ventures, the venture capital affiliate of Comcast Corp., and private equity firms Shamrock Capital Advisors and KKR.
GGV Capital, Redpoint Ventures and Raine Group LLC are among the venture-capital firms that have teamed with DraftKings. Walt Disney Co.'s ESPN invested $250 million in April, according to the Wall Street Journal, while Major League Baseball also has an ownership stake and the National Hockey League and Nascar are DraftKings partners.
Mayweather's Trunks
The two companies probably combined to spend more than $80 million in sales and marketing in 2014, according to Eilers. They've continued to shower the U.S. sporting landscape with marketing dollars this year. FanDuel's logo, for example, was on Floyd Mayweather's boxing trunks last month for his bout against Manny Pacquiao, while DraftKings will be a presenting sponsor for horse racing's Belmont Stakes on Saturday as American Pharoah seeks to become the first Triple Crown winner since 1978.
"Other than the fact that they're spending a lot of money, it lends itself so well to fan engagement," Skotarczak said.
Other MSG Signature partners include Anheuser-Busch InBev NV, Coca-Cola Co. and Delta Airlines Inc., as well as Marquee Partner JPMorgan Chase & Co.
Robins, of DraftKings, said he hopes the partnership will include on-ice, on-court and player meet-and-greet experiences for his customers.
(An earlier version of this story corrected the spelling of Jason Robins in fourth paragraph.)
Before it's here, it's on the Bloomberg Terminal.
LEARN MORE