Lean Cuisine Chef's Daunting Task: Clearing Out 13-Story Freezer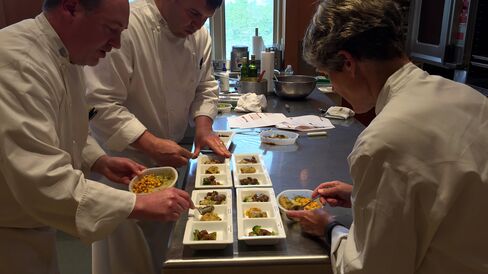 About 20 miles southeast of downtown Cleveland sits a 13-story freezer holding millions of Lean Cuisine frozen meals. Lucien Vendome has the unenviable task of persuading America to eat them.
Vendome, Nestle SA's French-trained director of culinary innovation, has spent the past 16 months revamping the ailing brand to lure consumers back to the frozen-food aisle. He's ditched the old focus on fat and calories, replacing it with organic, high-protein and gluten-free meals incorporating ingredients like kale and pomegranates.
The overhaul, which cost millions, is the biggest in Lean Cuisine's 34-year history. And it had better work, as Nestle has said it must turn around its U.S. frozen-food business, the nation's largest with sales of about $5 billion from brands including Stouffer's, Hot Pockets and DiGiorno pizza. Nestle has already sold Juicy Juice and Jenny Craig -- brands that also had their heyday in the 1980s. If Vendome can't empty that freezer fast enough, Lean Cuisine could be next on the block.
Nestle's challenge is shifting the perception that Lean Cuisine is heavily processed and unhealthy, which has sent sales falling 20 percent to about $800 million over the past two years, according to Kepler Cheuvreux analyst Jon Cox.
"This is not going to happen overnight," he said. "Nestle has the resources to make it work, but I suspect also that if it can't be seen to work by the end of this year, it may be disposed."
Attention Shift
The Swiss company's stock has barely gained in the past 12 months and traded 1.1 percent lower at 70.80 francs as of 1:38 p.m. in Zurich on Thursday.
Lean Cuisine's struggles mirror those of Weight Watchers International Inc. and other established diet programs as the weight-conscious shift their attention -- and spending -- to fresher food and wearable devices like those from Fitbit Inc.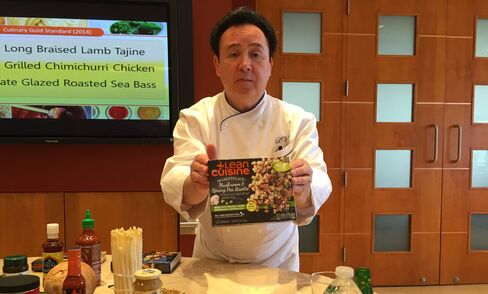 It takes Nestle about two years to develop a new product. So Vendome, the first chef ever hired by the company 37 years ago, and his team read food magazines and consult with chefs to determine what menu items will transcend the tastes of urban foodies and reach suburban microwaves. One past visitor was Dominique Ansel, the inventor of the cronut.
Those ideas must translate into a recipe that can be produced on a massive scale and frozen. Lately, consumers have avoided frozen food as they perceive it as less healthy than chilled or fresh items.
"Strategically, Nestle is stuck at a dead end which they can't get out of," Patrik Lang, head of equity research at Julius Baer Group Ltd., said.
Tired Brand
Jeff Hamilton, president of Nestle's U.S. prepared foods business, says the problem with Lean Cuisine wasn't that it's frozen. The brand was clinging to old notions of weight loss that Americans have ditched.
"Lean Cuisine is a brand that hasn't been performing well over the last few years," Hamilton said. "We expect it to take some time to reposition in the minds of consumers."
Nestle has split Lean Cuisine into four new product lines. There's Craveables, snacks like spring rolls; Comfort, including meatloaf and mashed potatoes; Favorites, which feature Lean Cuisine's classic recipes; and Marketplace, focusing on better-for-you options such as organic cheese-and-bean enchilada verde.
In a given year, Nestle might test 5,000 recipes and will tweak about 20 percent of those. As of next month, frozen-food innovation will be housed in a $50 million innovation center in Solon, Ohio that will ultimately be staffed by about 120 employees. One room in the building holds 60 microwaves, to test how meals cook in different types of food zappers.
All that research could pay off for Nestle, says Sean Coary, an assistant professor for food marketing at Saint Joseph's University in Philadelphia. But shoppers' buying habits don't always match their opinions, he said.
"We hear that Americans want healthier options, they want organic, they want natural," he said. "What they are purchasing and consuming, however, may be totally different."
Read this next:
Before it's here, it's on the Bloomberg Terminal.
LEARN MORE