Is This the Brazilian Woman Next in Line to Succeed Rousseff?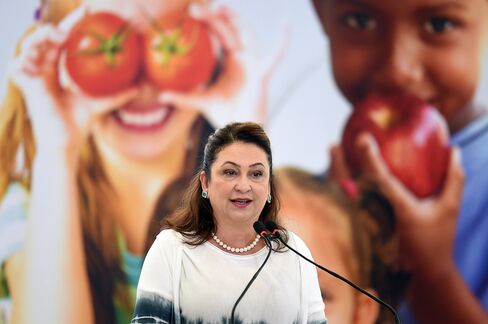 For Brazil's Katia Abreu, Feb. 1 was the day that confirmed she had accomplished everything she'd ever dreamed of. Or, almost everything.
First, she was sworn in as a senator. She then handed that job to a substitute so she could continue as Brazil's Minister of Agriculture, championing the farmers who generate a quarter of the country's economy.
And before the day was over, she would marry a longtime friend, Moises Pinto Gomes, as President Dilma Rousseff, a former political foe, beamed in the front row behind them. Even as Abreu's free-market principles run counter to Rousseff's interventionist leanings, the two women have formed a complex but warm relationship that's helped advance the interests of the farming community as well as her own, fanning hopes among supporters that Abreu may one day hold the presidency herself.
"Of course all politicians would someday like to preside over Brazil," Abreu, 53, said in wide-ranging interview last month. "But it's a question of destiny; these things just happen. President Dilma, for example, had never been a candidate and she became president. It was her destiny."
Abreu's destiny was set in motion by a tragedy.
She was 25 years old, the mother of two and pregnant with a third, when the small plane her husband was piloting crashed during takeoff. Newly widowed, she went to the local farmers union to see to the future of the family ranch. Within a relatively short time, she rose to become president of that group before reaching out to expand her influence nationally.
Agriculture Confederation
Since then, she has become president of the agriculture confederation, the sector's most important national lobbying group, and been elected to the senate from her home state of Tocantins. This week, she stood side-by-side with Rousseff to announce a $60 billion financing plan for the upcoming harvest.
Already the world's largest exporter of beef, chicken, orange juice, coffee and sugar, Abreu says this will be the year Brazil finally overtakes the U.S. in soy exports.
"When the President invited me to be her minister, in that moment she invited Katia, with all her ideas and all her principles," Abreu said in the interview. "That's who I am and that's who I'll continue being. A person who respects property rights, economic liberalism, who believes in the market, who believes in democracy."
Ironically, Rousseff and Abreu almost ended up on opposing sides in the 2010 elections, according to Saulo Queiroz, the secretary of Abreu's former party who has known her for 15 years. He said Abreu considered running on the center-right PSDB ticket with Jose Serra, who was challenging Rousseff.
Losing Bet
But Queiroz, recognizing Serra was a losing bet, counseled her to wait, he said.
"I said to her, 'Katia, this isn't the time'," Queiroz recalls. "We're going to fight for you to be the candidate for president of the republic."
Now Abreu is a member of the PMDB, a less statist member of the ruling coalition. It remains an open question whether Abreu, as a relative newcomer, would be able to unite one of Brazil's largest parties behind her should it field a presidential candidate in 2018, according to long-serving PMDB members, who asked not to be named under party policy.
Conversations with those close to Abreu paint a portrait of a skilled political leader who, like Rousseff herself, is both detail-oriented and strong-willed, with a propensity to be short-tempered with subordinates. Her fierce defense of agribusiness has spurred an array of foes, from the rural poor, who cite her defense of the landed elite, to environmentalists, for her support of laws seen as allowing deforestation.
Lula Concern
Included among those detractors is Rousseff's mentor, former president Luiz Inacio Lula da Silva. As a senator, Abreu helped hand Lula one of his biggest political defeats by eliminating the so-called CPMF tax on financial transactions.
Still, over the long run, it could work in Abreu's favor to be seen as the outsider in her own party, coming as a massive kickback scheme involving state-run Petroleo Brasileiro SA has spiked voter disenchantment with the ruling political parties sending Rousseff's approval rating sinking.
Abreu, who has a degree in psychology at the Catholic University of Goias, wasn't always a political success. In fact, she failed in her first bid to reach the lower house of Brazil's congress in 2000, and was named instead as a substitute. People who knew her then describe her as charming and curious, committed to learning more than was needed about any given issue confronting farmers.
In Brazil's agricultural old-boy's club, it was a quality that made her stand out, they say.
'In the Dirt'
Early on, her political backing came from Jose Wilson Siqueira Campos, who was then governor of Tocantins. Abreu would later defy internal party polls to defeat the governor's son in the 2006 election to take his place as senator. A phrase she used in that campaign was to tell her opponent to "get off his saddle" to talk with her "down in the dirt."
She first met Rousseff in 2011 while representing the agriculture confederation. Rousseff, newly elected, knew little about the seeds, cycles and risks of farming life and was keenly interested in learning more. Abreu said she had two requests: better infrastructure and an agriculture policy that would provide financial security for farmers.
Now, Abreu is quick to describe Rousseff as her greatest ally, one she describes as "angry" when budget cuts dip too deeply into agriculture.
"I try to be buddies with the finance minister, to have a good relationship," Abreu said. "I let the president play the angry role, and she does get very angry when he tries to mess with financing for farmers. She doesn't let him."
Before it's here, it's on the Bloomberg Terminal.
LEARN MORE