India Set for Record Food Imports as Poor Monsoon Looms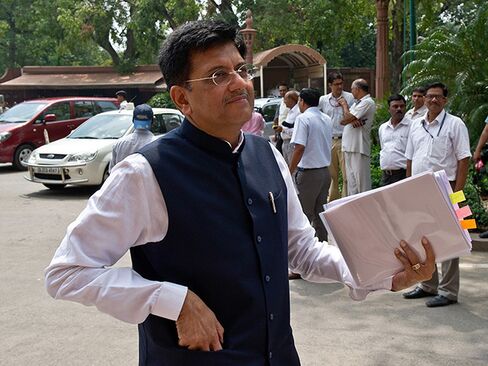 India is gearing up for a deficient monsoon for a second year, signaling record food imports, efforts to cushion farmers and contingencies for lower hydroelectricity.
Imports of pulses and cooking oil are set to surge, Kotak Commodity Services Ltd. said, while Power Minister Piyush Goyal said preparations are underway to boost coal-fired power and offer public works to provide alternative rural employment. The government has advised states to conserve dam water for drinking and recommended farmers use less water-intensive crops.
The S&P BSE Sensex equity index is among the world's worst performers this quarter partly on concern that poor rains may stoke inflation and prevent further interest-rate cuts in Asia's third-largest economy. The weather bureau has warned the El Nino sweeping the world could curb rainfall in India, where 833 million people live in villages and depend on farming.
"From the farmer's perspective, there is a fear of reduction in their incomes which will have an impact on the rural economy," said Siraj Chaudhry, chairman of Cargill India Pvt. in New Delhi. "Inflation management should not be a problem. There is enough vegetable oil in the world and India should not have a problem in meeting any shortfall."
Cooking oil purchases are set to jump 18 percent to 14 million tons in the 12 months through October, while imports of pulses may exceed 4 million tons, said Faiyaz Hudani, associate vice president at Kotak Commodity Services in Mumbai.
"If the forecast comes out to be true, prices will break previous records," Hudani said on Thursday.
Rates, Economy
Reserve Bank of India Governor Raghuram Rajan cut the policy rate on June 2 for a third time this year but said astute food management is needed to mitigate inflation risks from the monsoon. Weak rains could pose an obstacle to Prime Minister Narendra Modi's goal of accelerating economic growth.
The country meets more than 50 percent of its cooking oil needs from overseas and the government will augment supply of pulses through imports if needed, Agriculture Minister Radha Mohan Singh said Wednesday.
Abundant stockpiles of food grain will help the government check prices and the impact of deficient rains on farm output may not be significant, Finance Minister Arun Jaitley told reporters in New Delhi on Thursday.
The prospect of a poor monsoon follows unseasonal rains early this year that ruined wheat, mustard and vegetable crops.
Delayed Onset
The rainfall will be 88 percent of a 50-year average of 89 centimeters (35 inches) between June and September, less than the 93 percent predicted in April, according to the India Meteorological Department. The rains have yet to arrive over the southern region, missing the normal onset date of June 1.
Skymet Weather Services Ltd., a New Delhi-based private forecaster, disagrees with the weather bureau, saying June 2 that it doesn't expect El Nino to impact the monsoon.
Actual rainfall in the past has varied significantly from initial forecasts and the impact of rain shortages on food inflation is unclear, Morgan Stanley said in a report this week.
Even so, all eyes are on the weather now one year after Modi took office pledging to rejuvenate the economy. The failure of the monsoon is the biggest risk this year, Standard & Poor's unit Crisil Ltd. has said.
"We've already sent out advisories to state governments asking that drinking water be given priority," said Ashwinkumar Balwantray Pandya, chairman of the Central Water Commission. "We have to ensure that people and animals have enough water to drink till the next monsoon."
Before it's here, it's on the Bloomberg Terminal.
LEARN MORE