Ghana Opens Biggest Dam in Capital as Flood Deaths Near 200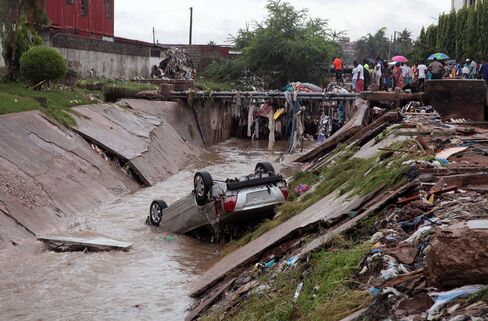 Ghana released water from an overflowing dam in the capital, raising the risk of additional flooding after the heaviest rains in six years left almost 200 dead.
Spillways at the Weija dam in western Accra were opened after the water level rose to 48.2 feet (14.7 meters), higher than the maximum acceptable level of 47 feet, Stanley Martey, spokesman for Ghana Water Co., said by phone Friday. Residents in the path of the water were warned to leave, he said.
"The water level at the dam this morning was very dangerous and risky to the existence of the dam," he said. "The rains are still falling from the in-take areas including the eastern region and more rains are expected."
The government is struggling to cope with showers in the world's second-biggest cocoa producer that are heavier than normal for the wet season that began this month. At least 180 people have died since Wednesday, including about 100 who sought shelter at a gas station that caught fire during the storm. The morgues at the city's two largest hospitals are near capacity, Citi FM radio reported.
The military is setting up emergency housing and the government will spend 50 million cedis ($12 million) on aid for flood victims, President John Dramani Mahama said on Thursday. He pledged to fix the sewage blockages, including destroying homes near waterways to improve drainage, and declared three days of mourning starting Monday.
Tough Measures
The destruction was "exacerbated by uncontrolled human settlement and activity," he said. "We will take the tough measures necessary to prevent such disasters in the future."
The rains that lasted more than six hours on Wednesday knocked over houses, pushed vehicles into overflowing ditches and brought down trees and power lines. Businesses ground to a halt as people were told to stay at home Thursday and there was no electricity for at least 24 hours in most parts of the city. Accra was already experiencing regular power outages.
The crisis comes a year after the government put on hold a $600 million project to improve drainage, cover open drains and expand the sewer system. That project was promised in the wake of a severe flood in 2011 that damaged property.
Mahama must now scramble to find the money to repair the damage and protect the city's residents against future floods. His government signed a loan with the International Monetary Fund earlier this year to narrow an above-target budget deficit and rein in inflation, near a five-year high.
Before it's here, it's on the Bloomberg Terminal.
LEARN MORE