Draghi Gets the Volatility He Foresaw as Global Bonds Surge Back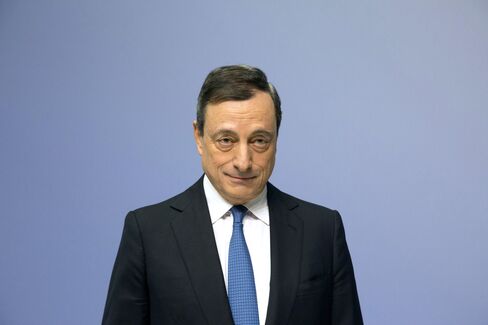 Mario Draghi's laissez-faire approach to bond-market volatility is pouring fuel onto the fire.
Since touching an eight-month high earlier on Thursday, yields on German 10-year bonds reversed their gains, while U.S. Treasuries also rebounded. The 17 basis-point trading range on 10-year bunds was about four times the daily median in the past year and followed a slump in the bonds this week that triggered the worst two-day drop in the history of the euro area. The global rout gathered pace Wednesday when the European Central Bank president said markets should be ready for periods of higher volatility.
"It's something we're going to have to get used to," Andrew Balls, chief investment officer for global fixed income at Pacific Investment Management Co., said in television interview. "We're going to have these periods where you have market participants trying to transfer risk and the banks and brokers are just going to act less like market makers."
The yield on Germany's 10-year securities fell four basis points, or 0.04 percentage point, to 0.84 percent as of 5 p.m. London time, after earlier climbing as much as 11 basis points to 0.996 percent, the highest level since Sept. 25.
"This is the new world we live in, this extreme volatility that we have," Jim Bianco, president of Bianco Research LLC, in Chicago, said Wednesday. "You get everybody betting on one side of the boat or the other."
German Volatility
The German bund yield increased more than 34 basis points in the previous two days, the biggest jump since at least 1999. On both days the yield range was about 20 basis points, compared with a median of about four during the past year.
"It was an ugly move, especially in bunds," Robert Sinche, a strategist at Amherst Pierpont Securities LLC in Stamford, Connecticut, said in an interview at the Institute of International Finance conference in New York. "It was pretty shocking."
Since January, the yield volatility on the 10-year German sovereign debt has more than quadrupled, according to Bloomberg Intelligence analyst Jonathan Tyce. It is now nine times the average experienced in the 15 years to end-2014, Tyce wrote in a report Thursday.
The yield on U.S. 10-year Treasuries fell by six basis points to 2.31 percent, after climbing six basis points to 2.42 percent, the highest since October.
The Bank of America Merrill Lynch's MOVE Index, derived from over-the-counter options on Treasuries maturing in two to 30 years, rose to 91.81 on Wednesday, the highest level since Feb. 24.
Gains Gone
"We should get used to periods of higher volatility," Draghi said at a press briefing in Frankfurt on Wednesday. "At very low levels of interest rates, asset prices tend to show higher volatility. The Governing Council was unanimous in its assessment that we should look through these developments and maintain a steady monetary policy stance."
The recent declines in global bond markets are wiping out gains made earlier in 2015. Euro-area securities lost 0.9 percent this year through Wednesday, after being up 4.6 percent as recently as April 15, according to the Bloomberg Eurozone Sovereign Bond index.
"Draghi added to the volatility with the comments and he's probably right that we are going to have more," said Allan von Mehren, chief analyst at Danske Bank A/S in Copenhagen. "We had been expecting bond yields to go higher coming into the summer, but it's been much more violent than expected."
Getting Scary
DoubleLine Capital's Jeffrey Gundlach, who said in April he was considering making an amplified bet against German debt, predicted Wednesday that German bund yields will rise to 1.25 percent. His April statement that yields were too low, coupled with Janus Capital's Bill Gross calling bunds the "short of a lifetime," contributed to a selloff in German debt that has seen 10-year yields increase from as low as 0.049 percent in April. A short is a bet an asset's price will fall.
"I recognize the tremendous liquidity problems and the ups and the downs on a daily basis or even on a minute basis and it scares the hell out of me," Gross, who runs the Janus Global Unconstrained Bond Fund, said in a radio interview Thursday.
(An earlier version made an incorrect reference to record-low Treasury yields on the fourth screen.)
Before it's here, it's on the Bloomberg Terminal.
LEARN MORE