FIFA Paid Irish Soccer $5 Million Not to Contest Henry Handball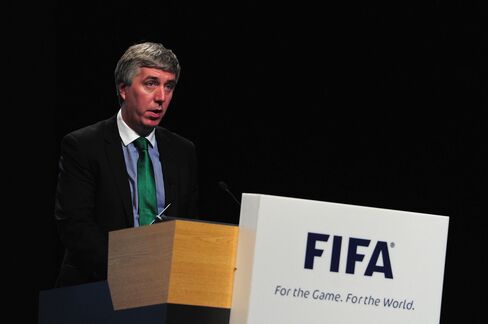 FIFA gave Ireland's soccer federation $5 million to help build a stadium in return for it forgoing legal action over a handball that allowed France to qualify for the 2010 World Cup at the country's expense.
Ireland complained to FIFA after France striker Thierry Henry twice used his hand to control the ball before passing to William Gallas, whose goal won a playoff against Ireland on Nov. 19, 2009. FIFA refused Irish requests to replay the game.
FIFA said Thursday it extended a $5 million loan to the Football Association of Ireland after the governing bodies reached an agreement in January 2010. The deal stated that the FAI would repay the money if it qualified for the 2014 World Cup, which it didn't do. FIFA wrote off the loan on Dec. 31.
"We felt we had a legal case against FIFA because of how the World Cup hadn't worked out because of the Henry handball," John Delaney, the chief executive officer of the FAI, told Irish national broadcaster RTE in an interview. "We came to an agreement,"
Delaney said he raised the issue of compensation directly with FIFA's president, Sepp Blatter, who said Tuesday, four days after he was elected to a fifth term, that he would step down as soon as a replacement was elected. FIFA is embroiled in a bribery scandal after the U.S. Department of Justice indicted 14 soccer executives, including seven former or acting FIFA officials on corruption charges.
"While the referee's decision is final, and the Football Association of Ireland ultimately accepted it as such, in January 2010 FIFA entered into an agreement with FAI in order to put an end to any claims against FIFA," world soccer's governing body said.
FIFA's statement also noted that European governing body UEFA gave money to the FAI for the construction of the arena.
Read this next:
Before it's here, it's on the Bloomberg Terminal.
LEARN MORE