Burmese Ruby Necklace Tops Christie's $415 Million Sale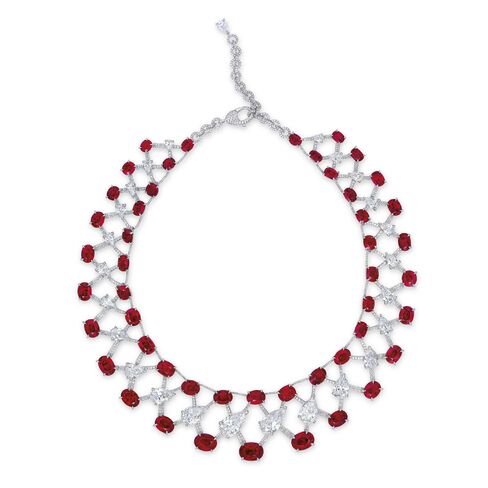 Christie's International Plc sold at least HK$3.22 billion ($413 million) of art, ceramics, wine and crocodile handbags at its spring auctions in Hong Kong.
That compares with HK$3.03 billion Christie's sold a year ago at the auctions held in May, reflecting strong demand for alternative investments even as people pile into equities in mainland China, where the Shanghai Composite Index is up more than 140 percent in the past year.
"There are more and more collectors and less and less material," said James Hennessy, a Hong Kong-based art dealer. "This is an asset class and they treat it as such. It shows no signs of abating."
The most expensive item sold during the five days was a HK$100.4 million diamond and Burmese ruby necklace made by Hong Kong-based Etcetera. Its pre-sale high estimate was HK$88 million.
In previous sales, top-selling lots were centuries old ceramics and works by record-breaking Chinese contemporary artists such as Yue Minjun and Zhang Xiaogang who were conspicuously absent this time around.
Demand for 20th century masters keeps strengthening. The top lot of the marquee evening sale on May 30 was an oil painting by Chinese-born painter Sanyu (1901-1966) titled "Chrysanthemums in a Glass Vase," which sold for HK$81.9 million. A decade ago his works were selling for one-tenth that amount, said Hennessy.
That sale also produced strong results for non-Chinese artists. A painting titled "Montagne Bleue" (Blue Mountain) by 20th century Korean artist Kim Whan-ki sold for HK$13.8 million, more than five times its high estimate, setting an auction record for the painter.
Nara's Kid
Contemporary Japanese artist Joshitomo Nara's cartoonish painting of a mischievous girl titled "Yr. Childhood" sold for a record HK$19.7 million.
Another sign that investors are exploring new asset classes was the luxury handbag sale on June 1, where a rare fuchsia Hermes Birkin crocodile bag with diamond and gold hardware sold for HK$1.72 million, the most ever paid for a handbag at auction.
"People are realizing that vintage bags are a really good alternative investment," Matthew Rubinger, who runs Christie's handbag business in Asia, said before the sale.
The top lot at Wednesday's sale of imperial works, was an 18th century blue and white ceramic vase made for the Qianlong emperor that sold for HK$56 million to Hong Kong dealers Morris and Joey Low.
Christie's spring auctions kicked off with the May 30 wine sale where the most expensive lot was a 12-bottle case of Domaine de la Romanee-Conti's Romanee-Conti 1988 that sold for HK$1.23 million including a 22.5 percent buyer's commission. A similar case fetched HK$1.6 million at Christie's Hong Kong in November.
The most expensive timepiece at Wednesday's watch sale was a signed, 18 carat pink gold Patek Philippe wristwatch that sold for HK$3.64 million.
Before it's here, it's on the Bloomberg Terminal.
LEARN MORE